Rail Fare Protest Hits Ely Station
2 January 2018, 09:34 | Updated: 2 January 2018, 09:36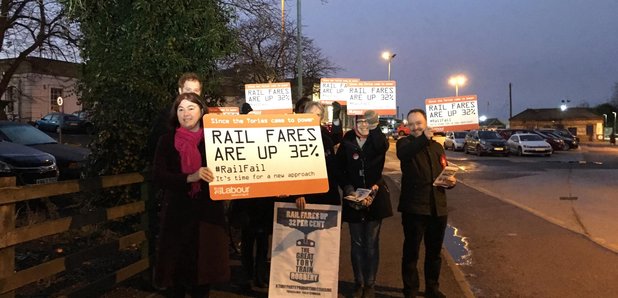 Protesters gathered at Ely rail station this morning, after train fares went up by an average of 3.4% - the biggest rise in five years.
They were joined by East of England MEP Alex Mayer, who said it was time for a complete overhaul of the system.
She told Heart: "Season tickets from Ely to London have now gone over £5000 a year. It's completely eye-watering.
"People are really feeling the pinch, and enough is enough."
One commuter, who's being going between Cambridge and Ely for a few months now, doesn't think it's fair that prices should rise when the service isn't improving.
He told us: "In four months, the train I get has only been on time twice. Any kind of mildly-adverse weather conditions, and the whole network grinds to a halt.
"My train is either delayed, or cancelled completely. When it's here, you can't get a seat - so no, I'm not a big fan. Wages haven't gone up, so why should rail fares?"
For Sam, who's a student often travelling to Cambridge, it's a similar issue.
He said: "I go there from Guildford at least twice a month to see my partner. With a young person's rail card, it costs me about £35.
"I dread to think what it would cost without that. I don't know if I would be able to afford it."
The average price rise, of 3.4%, is relevant for Greater Anglia services. Great Northern trains are 3.3% more expensive.
But for CrossCountry commuters - who may use the service to get to Stansted Airport or Birmingham - they will be paying 4.1% more for their rail fares from today.