"Smart" Navigation In Cambridge Launched
20 June 2018, 19:22 | Updated: 20 June 2018, 19:24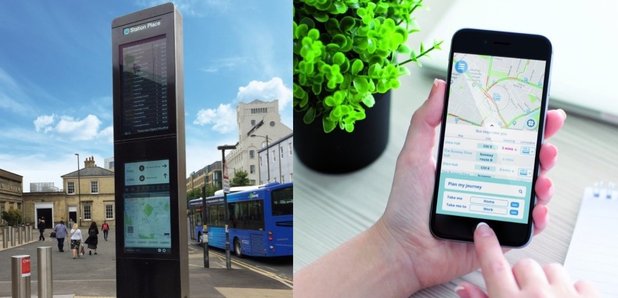 A new mobile travel app and smart wayfinding screens have been launched in Cambridge today (20 June) by "Smart Cambridge" to help residents, commuters and visitors plan their journeys around the city.
It's a free app on your smart phones and a new "MotionMap travel" app brings together "real-time" and local timetable information to more accurately predict travel times and suggest the best routes using a mix of buses, trains, walking and cycling.

Developed with Cambridge-based company Building Intellect, the MotionMap app also has a carbon counter, and will be refined and improved using feedback from users.

Smart screens showing the latest travel updates and useful visitor information are also being trialled at key transport interchanges to make it easier for people to find their way around the city.

The city's first digital wayfinding screens will be officially launched outside Cambridge Station today providing much-needed signposting, travel times and useful information, with more screens coming to Trumpington Park & Ride site over the summer.

Smart Panel lobby screens are also going up in the foyers of public buildings and large employers, including Cambridgeshire County Council's Shire Hall and AstraZeneca, offering specific travel and other information for staff and visitors.

Welcoming the launch of the new smart journey planning tools, Cllr Lewis Herbert, Interim Chair of the Greater Cambridge Partnership and Leader of Cambridge City Council, said:

"I am delighted to be launching our brand new Cambridge smart journey app today, giving people travelling into and around our great city live updates on their best public transport, cycling and walking journey options to get to their destination, advice that will also help us reduce congestion.

The new app and screens at the station and other city locations will be further developed and the data expanded, but we want these tools in use now – so residents, commuters and visitors can test them out and tell us how they can be made even better.

Cambridge recently won the accolade of being one of Britain's top ten smart cities, and this is yet another Smart Cambridge project contributing to keep us at the top, by using data and emerging technology to help people and the city tackle our massive congestion challenge and cut vehicle pollution."