South Cambs Rejects Agri-Tech Plans
8 March 2018, 12:34 | Updated: 8 March 2018, 13:44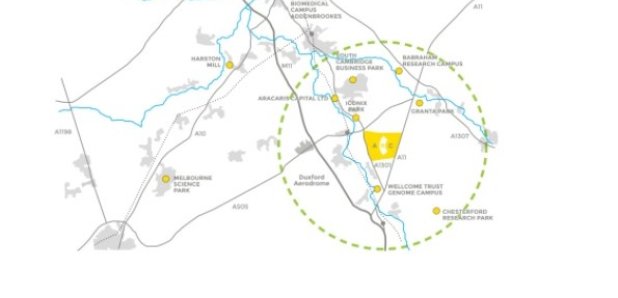 South Cambs District Council have rejected plans for a new Agri-Tech park, which could have created thouands of new jobs.
Developers SmithsonHill wanted to create a 112,000m² park to develop and test new crop growing technologies and agricultural technology on land to the east of the A1301, south of the A505 near Hinxton and west of the A1301, north of the A505 near Whittlesford.

SmithsonHill said the development, named ARC, would be a "proposed park which will facilitate excellence in agricultural technology (AgriTech) to address the national and global challenges of sustainable food production."

The company said it would be "set in a high-quality parkland environment with tree lined avenues, footpaths, open spaces and informal recreation areas, ARC will enable safe trials of crops and new technology. It will also provide a positive community-based space for employees that will enable quality and balance of life."

But at a meeting last night, planners at South Cambridgeshire District Council said:

"Notwithstanding the benefits claimed in the application, the proposed site for the AgriTech park would result in negative impacts in terms of substantial and significant landscape and visual harm, adversely affecting the curtilage and wider setting of the Grade II listed building Hinxton Grange and the loss of high grade agricultural land. The application has also failed to provide a satisfactory transport assessment and flood risk assessment."
Encroach into the open countryside
The authority added:

"The proposed site for a bus and cycle interchange and pedestrian bridge connecting the site with Whittlesford Bridge Railway Station would cause substantial harm to the openness and purposes of the Cambridge Green Belt, and the rural and agricultural character of this area.

The Green Belt location for the proposed bus and cycle interchange, that alternative sites outside the Green Belt have been considered, and the significant public benefits and requirement for this location.

The proposed bus and cycle interchange and transport measures would encroach into the open countryside and reduce the openness of the Green Belt."
Unsustainable development
Cllr Pippa Corney, Chairman of South Cambridgeshire District Council's Planning Committee, said:
"South Cambridgeshire has a world-class reputation for scientific research in many fields, and rightly so. This Council has a track-record of supporting economic development, through carefully planned growth, to help facilitate this research.
However, everyone on the Planning Committee who voted unanimously agreed that this plan proposed an unsustainable development for many reasons. We heard and acknowledged significant local concerns relating to the impact it would have on roads, transport, the environment and countryside.
The economic arguments for this very sizable scheme were outweighed by fundamental concerns about the negative impacts we felt it would have on the surrounding area."