Police Officers In South Lincs To Use Upgraded Tasers
26 January 2018, 10:13 | Updated: 26 January 2018, 10:31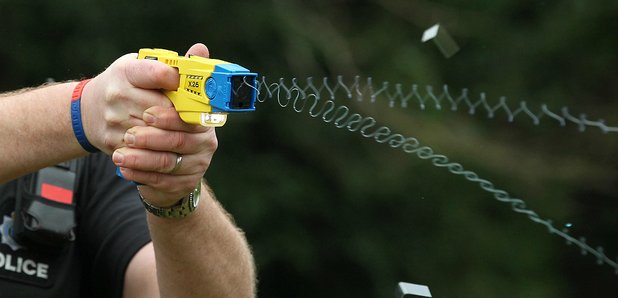 South Lincolnshire's police officers will be armed with the latest, improved versions of Taser guns.
They have told Heart they will be deploying more than 200 of the devices.
Assistant Chief Constable Shaun West said: "Our Taser-trained officers undergo rigorous instruction training in how to safely, lawfully, and effectively use the devices; and that will be no different with the new ones.
"Having a Taser can mean the difference between a dangerous situation being peacefully resolved or not as it provides another tactical option officers can consider. They are faster and more efficient."
The old Tasers had a spread of 21 feet - but the new ones can reach 25 feet.
They are likely to be used in cases of anti-social behaviour, domestic violence or even hare-coursing.
Lincolnshire Police and Crime Commissioner, Marc Jones, has welcomed their rollout.
He added: "Around half of our response officers are trained to use Taser, and it is a tool which can help and support officers to serve their communities while keeping them safe from harm.
"Having that tool, especially for many officers who are often single-crewed, is the best possible way to achieve that objective.
"However, we are not complacent and ensure our equipment and training is right up to date.
"This state of the art technology means we have the most advanced and developed equipment to enable operational officers to do their job in the most effective and safe way possible."