Spalding Pumpkin Friday Time
7 October 2016, 07:00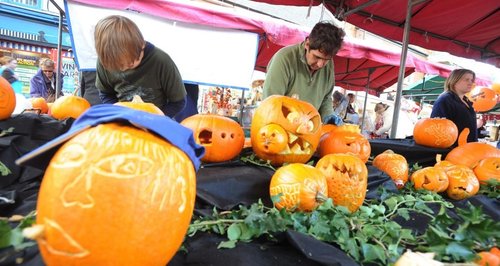 The massively popular Spalding Pumpkin Festival is back today!
It's been a firm local favourite in the diary for over a decade.
Cllr Gary Taylor said:
"The festival is one of the highlights of our events calendar and always proves an enjoyable experience for people of all ages.
I'm sure that this year's event will be no exception and we look forward to welcoming many visitors."
Local schools and groups are encouraged to take part in the build-up and festival itself.
David Bowman, who is Europe's largest producer of pumpkins, donates thousands of the fruit to schools and pupils can carve and decorate them before taking their creations along to the big day.
This year, music, costumes and dancers will add a fun carnival feel to the festival.
Transported and South Holland District Council have invited Caribbean Carnival arts company EMCCAN to create large scale carnival costumes and lanterns with John Harrox Primary School, Moulton and Spalding High School.
Visit the Transported stand from 11am until 6pm to make your mark on our large pumpkin themed banner.
Families can join us in front of the stage at 4.30pm to enjoy interactive, scientific stage entertainment provided by 'Mad Science'.
From 520pm the popular fancy dress competition takes place, where one lucky winner will lead the enchanting lantern parade in our magical pumpkin coach.
Make sure your outfit reflects the event's theme of pumpkins, harvest and orange and green.
There will also be a Samba band within the parade with dancers from the local schools and Elite group in Spalding. The procession will meet in Sheep Market for 6.20pm, and set off at 6.30pm.
The festival will also feature a variety of daytime entertainment from 11am, including a charity market, activities and competitions.
Pop along to craft workshops by 'Creation Station' to produce a piece of pumpkin-themed artwork that you can wear, carry or wave in the parade.
The Transported team will be present during the day making lanterns for the parade so pop along to watch or lend a hand.
Visitors will also be entertained with the exhilarating antics of 'Balloonatic' and the 'Flame Guys'.
In the evening, there will be live music from Revolver and singer Dennis Hannant.
With pumpkins taking centre stage there will be cooking demonstrations throughout the day, giving visitors a chance to pick up recipes and cooking tips for soups, hotpots, and cakes.
The climax of the night is a spectacular fireworks display from the top of the South Holland Centre at 7.30pm.
The following roads in Spalding will be closed between 11am and 10pm on October 7:
Bridge Street
Market Place
Hall Place
Sheep Market
The Crescent
Priory Road
Haverfield Road
London Road
High Bridge
Broad Street
Red Lion Street
Station Street
Spring Gardens
Local diversion routes and access arrangements will be signposted.
Pic courtesy: Anglian Water