Squatters Take Over Peterborough Building
18 May 2015, 10:35 | Updated: 18 May 2015, 10:47
A group of squatters have barricaded themselves in an empty office building in Peterborough protesting against the new Government.
They're protesting the new Government coming in to power.

They've taken over Aqua House on East Station Road.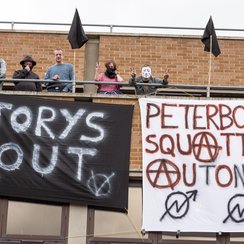 Peterborough City Council say:

"We are now in the process of taking appropriate legal action to evict the squatters who are occupying Aqua House.
"Entry appears to have been gained between the security check on Saturday evening and about 10.30am on Sunday morning when we were alerted.

"All doors were securely locked and windows were barricaded. We employ a security firm to check the building twice a day."