Straw Fire Near Huntingdon
9 April 2015, 07:34 | Updated: 9 April 2015, 07:39
More than 60 firefighters have been tackling a fire overnight at Sundown Straw Products in Tilbrook.
10 fire engines and three water carriers, including crews from Bedfordshire and Northamptonshire fire services and RAF Molesworth, have been working through the night to tackle the blaze which started at 11.15pm.

Cambridgeshire Fire and Rescue say "Crews' first priority was to locate the cylinders that were on site and deal with them appropriately. The large number of firefighters was also needed as a water relay was required to get water to the scene from hydrants in Tilbrook village, Kimbolton and Molesworth.

"At 1.10am it was confirmed all cylinders had been removed and by 1.50am the fire had been surrounded and the incident was scaled down. The fire affected a straw storage building and a number of lorries and other machinery.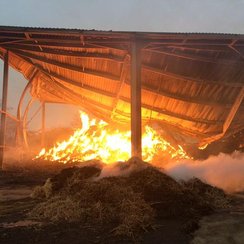 "Crews worked hard to prevent the fire from spreading to the main factory.

"As it stands now at 7am, three fire engines remain at the scene. The straw pile is still alight and will be left to burn in a controlled manner.

"A fire investigation will commence this morning.

"Thanks to colleagues at Bedfordshire and Northamptonshire fire services for their assistance and also to RAF Molesworth for their water carrier and crew."