Stress Levels Rise In Cambridge As We Shun Lunch Breaks
2 November 2017, 08:26 | Updated: 2 November 2017, 08:46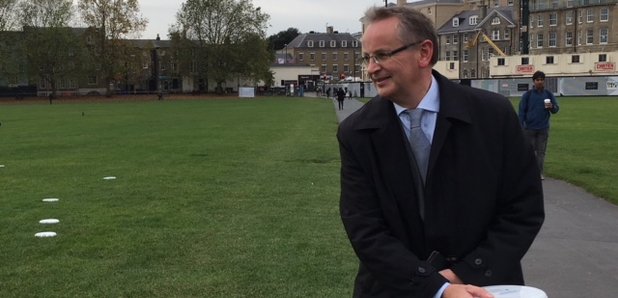 80% of us in Cambridgeshire and Peterborough feel disengaged from our work, because of stress.
This from one local psychotherapist, who's been trying to get people out of the office at lunchtime for some fresh air and exercise.
Mark Newey set up a "frisbee flingalong" on the Cambridge greenery, to help us bust some of that pent-up anxiety.
Mark told Heart: "Thirty years ago, when I started working, everyone took an hour's lunch break.
"If you didn't, it was perceived that you couldn't cope with your workload - you were having to stay behind and catch up."
Now, though, he says, hardly any of us get out for sixty minutes.
Mark adds: "We're not switching off. We feel compelled to sit at our computers, eating our sandwiches there."
He describes the human brain as being "more like Usain Bolt than Mo Farah" - in that, it's physically impossible for us to concentrate for a long time.
Our wellbeing, and creativity, suits shorter bursts of thinking - a little more like the sprint Bolt is famous for, than the marathon with which we associate Farah.
Chatting to people who stopped by to fling a frisbee, Heart found a range of stressors that get them wound up.
A group of female students told us: "If we had a bit of breathing space between assignments, we could relax a lot more and go steadier with our work.
"At the moment, we don't even get a week between assignments."
Ali, who's just started studying engineering at Cambridge, said: "I've never been very good at organising my time, and that's quite stressful now.
"I'm starting to realise pulling all-nighters to get my work done isn't sustainable!"
Andrew is a businessman who readily admits he doesn't often take a sixty-minute lunch break.
He insisted: "I do take a break every day - but sometimes it's more like a quarter of an hour. There's so much to manage, like client expectations, and delivering to ever-increasingly tight timescales."
But for Kerry, it's not so much her own life that causes grey hairs. She said: "I worry for my children, because there are so many pressures on them now.
"My youngest is at university, and the workload is huge. There's peer pressure, jobs, everything."
Psychiatrists say a less-stressed workforce boosts creativity and productivity by an average of 15%.