Stronger Ties Between Cambridge UK and US
26 June 2018, 10:00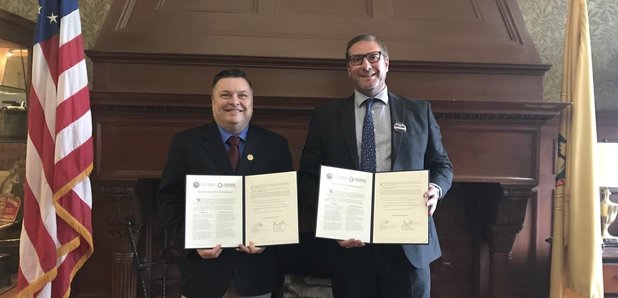 The Regional Mayor for Cambridgeshire James Palmer has been in Cambridge's American namesake, to better link the university and tech cities across the Atlantic.
James Palmer's co-signed a document with the Mayor of Cambridge, Massachusetts, so they can work closer together in future for trade, investment, educational ties along with social and cultural links.

READ MORE:-
Mayor Palmer was in Boston last week to co-sign the document with the Cambridge, MA Mayor Marc McGovern. The two areas have much in common, with Cambridge, MA having two of the world's leading universities, Harvard and the Massachusetts Institute of Technology (MIT) and, like the Greater Cambridge area, also has a burgeoning life sciences sector and high-tech business clusters.

The two Mayors will work together to shape the Accord, which will include seeking opportunities for mutual trade and investment, shared educational and business partnerships, an exchange of information and ideas, as well as fostering cultural ties. The Accord, when fully formed, will partner the whole of the Cambridgeshire & Peterborough Combined Authority area with Cambridge, MA.

Both areas also have similar challenges in balancing their rapid growth with meeting the housing and transport needs of the people that live there. Part of the future Accord would see a commitment to sharing ideas and solutions on infrastructure to make growth sustainable into the future.

On the signing of the Declaration of Intent to form Partnership Accord with the Mayor of Cambridge, MA, Mayor James Palmer said:

"I was delighted to be able to sign the declaration of Intent to form a Partnership Accord with Mayor McGovern. Cambridgeshire & Peterborough and Cambridge Massachusetts have a huge amount in common and there is much we can learn from each other across a number of areas. There is also much to be gained from increased trade and investment between the two dynamic centres that we represent."

Cambridge, MA is part of the greater metropolitan area of Boston and it is well known for its Kendall Square business district, described as one of the most innovative square miles of enterprise on the planet thanks to its quantity of creative and pioneering businesses based there. It has 200 life sciences-related companies as well as 80 venture capital firms, which are helping to fuel the innovation economy.

Meanwhile Cambridge in the UK has 4,500 knowledge intensive businesses within 25 miles of the city and its enterprises file more patents than the next four best UK cities combined. The University of Cambridge is recognised as the world's second best, and the city can boast creating 98 Nobel Prize winners. More than 25 of the world's largest corporations are based in Cambridge.

Furthermore, with both centres offering a similar business climate, several major corporations including Microsoft, Amazon and Genzyme to name a few, choose to have a base in both cities.

The agreement signed saw both Mayors committing to:
Lead the process in our respective Governments to adopt a Partnership Accord
Promote the mutual exchange of ideas and information between the two cities
Encourage and enable contact between similar organisations and individuals within our cities
Establish relations to lead the development of cultural and economic ties
As well as a signing ceremony taking place, Mayor Palmer and Deputy Mayor Charles Roberts attended meetings at Cambridge City Council to discuss housing and transport issues. Mayor Palmer and Deputy Mayor Roberts also met with a number of City officials, councillors and representatives from both Harvard University, MIT, the business community and key individuals who had shaped major infrastructure initiatives in Massachusetts, including Boston's 'Big Dig'.

With Cambridge MA part of a greater metropolitan mass transit system, Mayor Palmer, who is also planning a mass transit underground metro for Cambridge, was keen to see how it was helping the city to thrive. He was also interested in learning about some of the strategies used by Cambridge, MA in delivering more affordable housing for its residents.