Two-Week Gun Surrender Starts In Cambridgeshire & Lincolnshire
13 November 2017, 07:27 | Updated: 13 November 2017, 12:36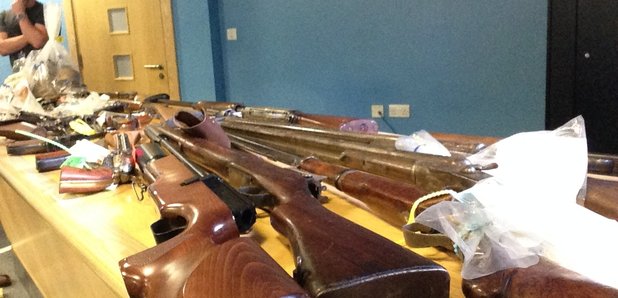 Cambridgeshire and Lincolnshire Police are launching a two-week firearms surrender to make the counties safer, and stop guns from falling into the wrong hands.
It will run from today until Sunday, November 26.
During the surrender, they are encouraging people to hand in unwanted or unlicensed firearms, ammunition, imitation firearms, and air- or gas-powered weapons.
In Cambridgeshire and Peterborough, we're being asked to call the firearms team on 101 and make an appointment to get the gun collected.
Advice will also be given on how to obtain the right certificate to be able to keep the gun legally.
Otherwise, guns can be taken to Huntingdon Police Station - that's also the force's Headquarters - to be given up there.
If you surrender firearms you will not face prosecution for illegally possessing them. You can also choose to remain anonymous when handing the items in.
The history of each live weapon will be checked, though, to see if it has been used or involved in a crime.
Detective Chief Superintendent Nathan Briant toldHeart: "There is very little gun crime in Cambridgeshire but as part of a coordinated national campaign to stop guns falling into the wrong hands, we are joining forces across the country to help people dispose of guns safely.
"We believe there may be people who have inherited, or come into possession of, unlicensed firearms - and will be eager to get rid of them.
"Whatever the circumstances, the amnesty provides the opportunity to dispose of these unwanted firearms safely and with peace of mind."

Changes to the Anti-social Behaviour, Crime and Policing Act 2014 now prohibits you from possessing firearms or ammunition for a period of five years if you have previously served custodial or suspended sentences of between three months and three years.

If you have served a custodial sentence of more than three years you are permanently prohibited.

Additionally, while the Firearms Act 1968 allows antique firearms to be possessed without a certificate as a "curiosity or ornament", the changes to the law in 2014 now means that if you are prohibited from possessing firearms, you will be unable to possess antique weapons.