Centre 33 Cheque Handover
13 April 2018, 08:15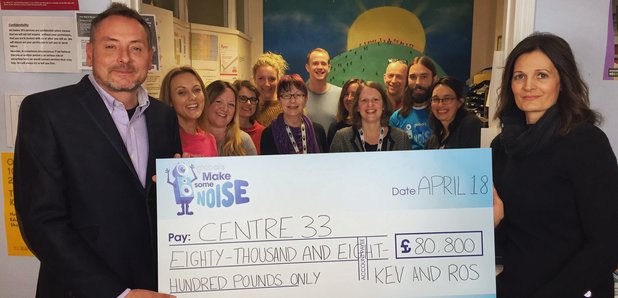 Last year, we asked you to support Heart's charity Global's Make Some Noise. Thanks to your phenomenal fundraising efforts we're giving out £2.5million to 33 amazing small charities around the UK who support youngsters and their families living with illness, disability or lack of opportunity.
Locally, we've been supporting Centre 33, a mental health outreach service for highly vulnerable young people in Cambridgeshire. It helps young people in the local area fulfil their potential, and empowers them with the tools needed to overcome the effects of disadvantage, inequality, poor health and isolation.
The charity was hoping for a grant of £29,367 but thanks to the generosity of listeners across Global's radio brands, Global's Make Some Noise donated more than double that amount. Here is the moment we surprised them with this huge sum...
The money raised by Heart Cambridgeshire and Global's Make Some Noise will completely fund the cost of the outreach service for two years helping them give the support to even more young people who need it.
Heart Cambridgeshire managing editor, Freddie Scherer said: "Global's Make Some Noise plays such an important role in raising awareness of small charities like Centre 33. The kindness of listeners means that Global's Make Some Noise can more than double its donation, which will help Centre 33 support even more young people throughout Cambridgeshire."
Meg Platt, Director of Operations at Centre 33, said: "We cannot thank Heart Cambridgeshire and its listeners enough for their incredible support. As a benificary of Global's Make Some Noise, we were hoping for a grant of just under £30,000 but when they surprised us with a cheque for £80,800 we were totally overwhelmed. The extra funds will allow us to help more vulnerable young people across Cambridgeshire, Peterborough, Huntingdonshire and Fenland access our support through our outreach service. We've experienced funding cuts recently and the extra support Global's Make Some Noise has given us is just fantastic."