Kev & Ros's Pumpkin Recipes
30 October 2017, 15:00 | Updated: 30 October 2017, 15:24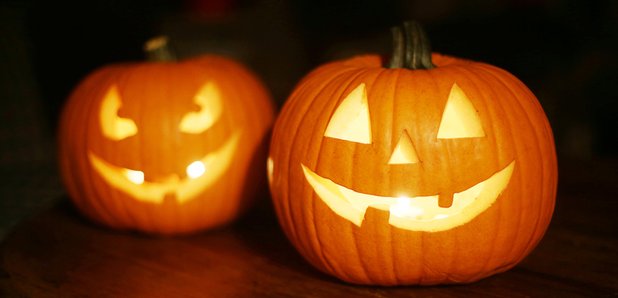 Kev admitted on Heart Breakfast that he's never been a fan of trying anything with pumpkin in it. He thought it was disgusting and wouldn't go near it... until now!
Ros invited Peter Puntrello, Head Chef at Sub Express in Peterborough, on to the show to try and change Kev's mind.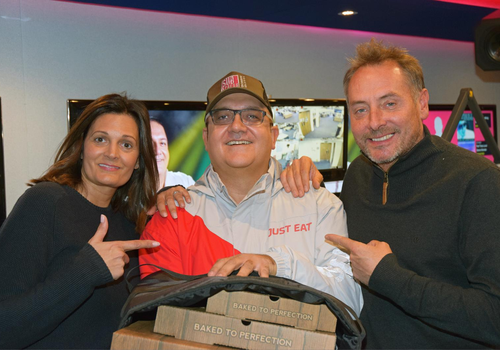 Peter put on a fantastic selection of pumpkin treats for Kev & Ros including; pumpkin soup, pumpkin pizza and American pumpkin pie.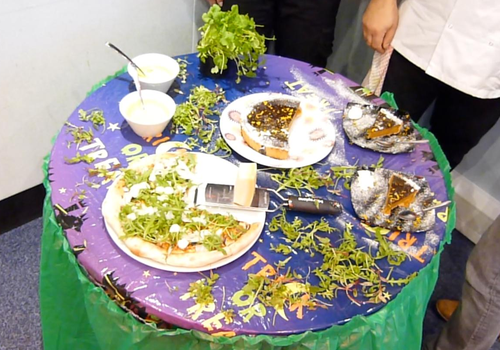 The food was delicious and the tasty recipes, for ways you can enjoy your leftover pumpkin this Halloween, can be found below!
Peter's Pumpkin Soup
Ingredients
Method
Sweat off onion and pumpkin and fry for 1-2 minutes.
Add the garlic and cook for another minute, then add the stock and bring to the boil. Simmer until the Pumpkin is tender.
Pour into a blender and blend to a fine purée.
Place the soup back into a clean saucepan and add the lime juice and cream, then season with salt and freshly ground black pepper. Return to the heat to warm through.
To serve, ladle the soup into soup plates and drizzle over a little extra virgin olive oil and a scattering of cress. Serve immediately with the pumpkin seed bread.
Peter's Roasted Pumpkin, baby spinach & ricotta pizza
Ingredients
50g pumpkin, deseeded, peeled, cut into 3cm pieces
Olive oil
1 tablespoon chopped fresh rosemary
50g baby spinach leaves (just Blanched for 15 seconds)
Pizza dough (home made or just buy a base for quick meal)
Tomato pizza sauce (Try using Passata Tomato Sauce)
1/2 red onion, thinly sliced
170g (1/2 cup) fresh low-fat ricotta
100g Shredded Mozzarella Cheese
Rocket leaves, on top (after pizza is out of oven)
Mozzarella Pearl balls (after pizza is out of oven)
Parmesan cheese shavings (after pizza is out of oven)
Method
Preheat oven to 200°C. Toss the pumpkin with olive. Sprinkle over the rosemary and season with pepper. Bake for 25 minutes or until tender and leave to cool down.
Open the pizza dough spread evenly with Tomato sauce. Top with the roasted pumpkin, spinach and red onion. Scatter over the ricotta and then the grated mozzarella.
Bake for 10-12 minutes or until the base is crisp. Place on serving plates and top with wild rocket, Mozzarella Balls, & Parmesan shavings and serve.
Peter's American Pumpkin Pie
Ingredients
For a 20cm tart tin
For the pastry:
170g plain flour

Pinch of salt

100g cold butter

2tbsp caster sugar

1 egg yolk
 

For the pie filling:
1 small culinary pumpkin
145g-maple syrup

1 tsp cinnamon

½ tsp ground ginger

¼ tsp ground cloves
3 tbsp vanilla essences
2 large eggs, beaten

150ml evaporated milk
Method
Pre-heat the oven to 200C. Cut pumpkin or squash in half or quarters depending on the size, and scoop out the seeds and fibres inside. Place skin-side up in a roasting dish with a couple of tablespoons of water. Roast for about half an hour, until tender.
Keeping the oven on, take the pumpkin out and leave to cool slightly, then peel off the skin, and scoop the flesh into a food processor. Whizz until smooth, then put into a fine sieve or piece of muslin suspended over a bowl and drain for at least an hour.
Meanwhile, make your pastry. Sift the flour into a mixing bowl, stir in the salt, then grate in the butter. Rub in using your fingertips until it resembles breadcrumbs, then stir through the sugar. Mix the egg yolk with 2 tbsp iced water, and sprinkle half over the mixture, then stir together with a knife until it comes together in a paste – add a little more liquid if necessary.
Bring the mixture together with your fingertips, and then roll out on a floured surface to the thickness of a £1 coin. Use it to line a 20cm tart tin. Cover with clingfilm and chill for 30 minutes.
Line the pastry case with greaseproof paper and fill with baking beans. Put in the oven for 15 minutes, then remove the paper and beans, and bake for another 5-10 minutes until the base is pale golden. Remove from the oven. Turn the oven down to 180C.
Meanwhile, put 250g pumpkin purée in a large bowl, discarding the excess liquid, and stir in the maple syrup, rum if using, and spices. Taste for sweetness, and then mix in the eggs. Gradually stir in the evaporated milk until you have a thick, creamy consistency – you may not need it all. Pour into the pastry case.
Bake for about 40 minutes, checking from half an hour onwards, until the filling is set, but still slightly wobbly in the centre. Allow to cool on a wire rack for at least an hour before serving.
Click here to visit the Sub Express website and to enjoy more great food.