Kev's Peterborough Cathedral Abseil Challenge
11 May 2018, 06:00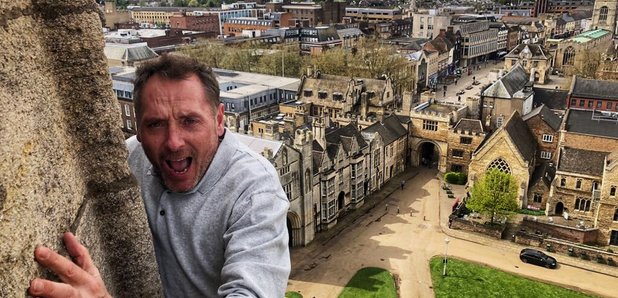 Have you ever been pushed into doing something you REALLY didn't want to do? Kev from Heart Breakfast can definitely relate!
Like a fairy tale, Kev will climb to the highest room in the tallest building in Peterborough but the only way he's getting to the bottom is down the front of it, in a harness.
Kev hates heights. In fact, His fear of heights stems from his childhood when he took a terrifying glance over the edge of a hotel balcony.
That means climbing the tall narrow spiral staircase to the top of Peterborough Cathedral's tallest spire on May 18th will be one of the biggest challenges of his life.
Don't miss Kev's live descent, Friday 18th May, on Heart Breakfast.
Kev Looks Over The Edge
The Journey To The Top
HELP!
Ros & Producer arranged a little help, in the form of Mari Williams, The Mind Architect. Using cognitive therapy, she eased his nerves.
Sponsor Kev
Help support Kev and give a generuous donation to Global's Make Some Noise, Heart's charity that supports small but brilliant projects across the UK - just like Centre 33.