The Best Christmas Adverts EVER!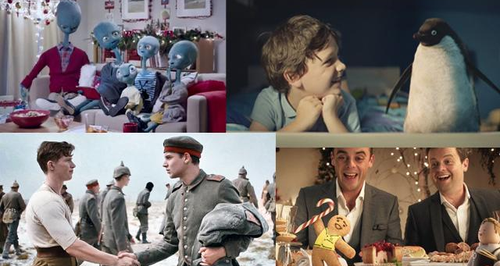 Nothing marks christmas like the endless trail of festive adverts. Whether it's the Coca-Cola truck or John Lewis' penguin looking for love, we take a look at the commercials that warmed our hearts.
Coca Cola - Holidays Are Coming (1995)
It's fair to say that most people would credit Coca Cola with being the real makers of Christmas, and their truck advert has gone down in history as one of the best ever.
The ad first aired in 1995 and features three trucks each covered in 30,000 light bulbs.
Yellow Pages - Mistletoe (1992)
There's nothing like your first kiss under the mistletoe and how awkward that can be! We still coo over this adorable advert which see a little boy stand on a book of Yellow Pages in order to reach up and have his first smooch.
Kellog's Cornflakes - Waiting For Santa (1990)
We'll always remember this Kelloggs advert, mainly due to the fact it features the cutest girl in the world! Aired in 1990, it features children as they try and wait up for Santa. Instead of munching on cookies and milk, this santa prefers a good ol' box of corn flakes.
Sainsbury's (2014)
The high street supermarket has served up a heart wrenching mini movie set on the blood drenched battle fields of the First World War in 1914, as two former enemies put their differences behind them and come together to celebrate this festive day.

Inspired by the tradition of British and German soldiers laying down their arms and meeting on neutral terms, we see the men share treats and even join one another in a competitive game of footie.
John Lewis (2014)
Set to a gorgeous soundtrack of the hit artist Tom Odell covering The Beatles' 'Real Love', John Lewis' advert follows the unbreakable friendship of a young boy and his penguin Monty.
The sentimental video follows the pair on a year's worth of adventures and good times together through football matches and snowy days.
However, being a penguin, Monty understandably misses his own kind and pines for a love to share his life with. Watch as the adorable little boy searches for a way to cheer his best pal up.