6 Christmas TV Specials That Blew Our Minds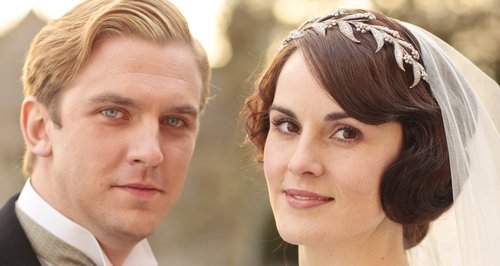 Here's our pick of the best TV specials that have made us smile, laugh and cry during the festive season...
By now we have all worked out that there are only two times a year when a TV series drops an almighty, unexpected plot twist and that's at the final episode in the series and the Christmas special.
This year looks as though it is going to be just as dramatic what with the last EVER episode of 'Downton Abbey', new 'Sherlock' and a special 'Sound of Music' live event with Kara Tointon.
To get us in the mood for Christmas 2015, we've gone back through our telly-box archives to revisit the incredible festive TV specials that blew us away.
Downton Abbey - Christmas Special, 2012
Now, we don't know about you, but we want Christmas specials to cheer us up, not leave us sobbing into our egg nog and mince pies! Lady Mary Crawley had just given birth to little George, Matthew was all full of smiles…and then he died in a car accident. Gutted does't even begin to cover it!
'The Vicar of Dibley' - The Handsome Stranger, 2006
She married so many happy, smug couples throughout her time as the Vicar but Geraldine Granger never seemed to have much luck herself. However, when the handsome stranger, Harry Kennedy, moved into Sleepy Cottage the Vicar's luck was about to change... We were surprised but we don't think we were as surprised as Geraldine...
'Miranda' - I Do, But To Who?, 2014
We loved this comedy sitcom starring Miranda Hart, but sadly it had to come to an end in 2014. Fortunately, we were left with two incredible episodes that showed Miranda choosing the man of her dreams. We'll be watching it when we need a good laugh before the inevitable washing-up session.
'Morecambe and Wise' - Christmas Special, 1976
News presenter Angela Rippon made an incredible cameo in this all-singing, all-dancing sketch by comedy heroes Eric Morecombe and Ernie Wise. The duo's Christmas shows were some of the most watched TV moments EVER, with the 1977 special securing 28 million viewers - that was half the population of Britain!
'Doctor Who' - A Christmas Carol, 2010
We were spellbound by this brilliant 'Doctor Who' Christmas special which featured Katherine Jenkins as a beautiful, opera-siting heroine who saves the black heart of Dumbledore, ahem, we mean Michael Gambon. The whole thing was fantastic from start to finish and even featured a flying shark! Yep, only in 'Doctor Who' could that not make us roll our eyes…
Gavin and Stacey - Christmas Special, 2008
We all know that family Christmas gatherings can sometimes get a bit heated and it was no different when Stacey's family came down from Barry Island to stay with Gavin's parents in Essex. But it was Smithy who we felt sorry for the most when Dave Coaches proposed to Ness and she said yes. Poor old Smithy. Who didn't want to give him a hug?