Here's A Way To Cook Christmas Dinner For Only £1
28 November 2017, 15:53 | Updated: 28 November 2017, 16:02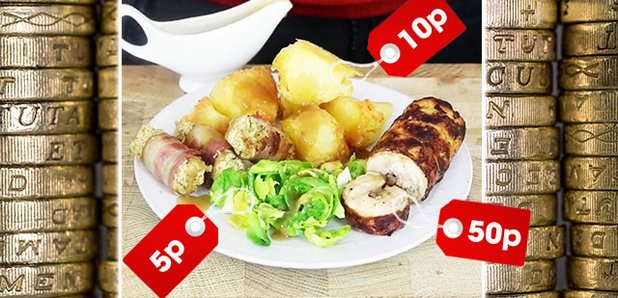 There's enough to splash out for at Christmas so here's how to make savings on your festive feast!
There's no doubt about it, Christmas is an expensive time of the year.
There are decorations and presents to buy, lots of Christmas catch ups and socials to think about and that's even before you've started buying the food.
Budget chef Miguel Barclay runs an Instagram account called OnePoundMeals and his latest upload is to help your pennies go further at Christmas.
He's gone through all of the major supermarket chains and worked out where to go for each ingredient to achieve a Christmas feast that works out at £1 a head!
He broke down the ingredients for the dinner as follows, and it includes substituting turkey for chicken, as it is cheaper at this time of year - some supermarkets bump up the price of turkey around the festive period.
He removes the bones from the chicken legs and then stuffs with cranberry sauce, onion and breadcrumbs before tying with string, boiling in tin foil to keep its shape and then sautéing in a pan.
It also includes making DIY pigs in blankets in which he wraps stuffing in a rasher of bacon for a more cost-effective yet still delicious side to your dinner.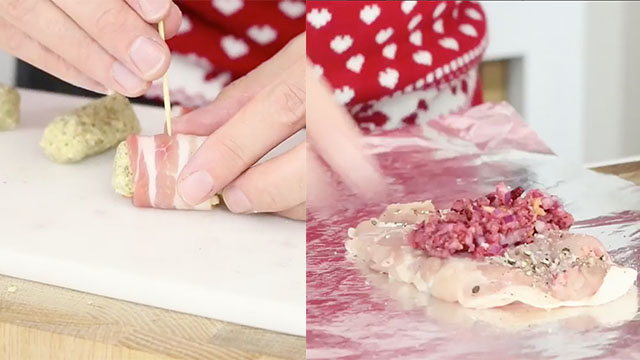 Get creative with the way you cook your ingredients | Picture: Instagram @OnePoundMeals
Here's the full breakdown item by item and where to go for a bargain:
- Chicken leg: 50p (4/£1.99 Aldi)
- 1/4 red onion = 3p (9/79p Asda)
- 1tsp cranberry sauce: 5p (200g/69p Asda)
- Breadcrumbs 2p
- 200g potatoes: 10p (2.5kg/£1.19 Lidl)
- 30g stuffing: 6p (170g/34p Lidl)
- 1 rasher bacon: 10p (14/£1.29 Lidl)
- 30g sprouts: 5p (500g/70p Asda)
- 1tsp gravy granules: 3p (170g/70p Asda)
If you like the sound of Miguel's financially friendly recipes he also has a book called Fast & Fresh One Pound Meals that you can buy here on Amazon and make savings on your food bill all year round!