12 Rescued By Lifeguards In One Week
4 September 2018, 18:40 | Updated: 4 September 2018, 18:42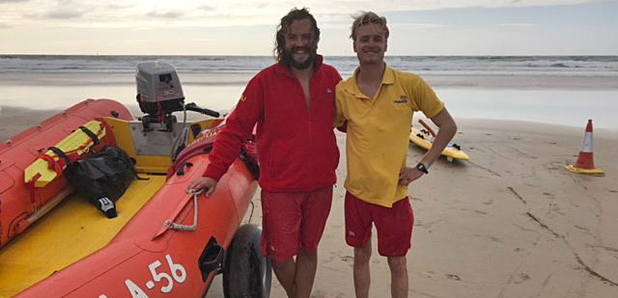 Lifeguards in North Cornwall have rescued 12 people from dangerous situations on our coastline in just one week.
The RNLI was called out to help a surfer who had got into difficulty in the strong winds and heavy swell at Perranporth yesterday evening.
A member of the public reported they had paddled out at the south corner of the beach towards Droskyn Point and had been quickly washed around the point towards the cliffs.
Lifeguard supervisor, Sam Chamberlain said: 'The surfer was extremely lucky that the lifeguards had been informed of his situation as the strong winds and swell were pushing him towards the cliffs, and as the tide was coming in, there would have been no escape.'
It comes as a bodyboarder had to be rescued after getting caught in a rip current at Holywell Bay last Tuesday and three people from the same family had to be rescued after drifting out of their depth at Chapel Porth.
Later in the week seven people had to be helped in a mass rescue.
Drustan Ward, RNLI lifeguard supervisor for the area, said:
'It's been a busy week for the lifeguard teams who have dealt with a number of incidents and helped people back to safety in conditions which have become much more challenging and unpredictable. As the peak summer season draws to an end, a number of RNLI lifeguard patrols have finished so we strongly urge anyone visiting the beach to first check whether their chosen beach has an RNLI lifeguard service for September, and if not please consider choosing an alternative beach where lifeguards are still on duty.
'If you find yourself on a non-lifeguarded beach, be aware of your abilities if you enter the water, check the conditions and make sure someone is watching you from the shore. If you find yourself in difficulty in the sea, fight your instinct to swim, pause, and float on your back until you are able to catch your breath. If you have a bodyboard with you, use it as a floatation device. Then, wave one hand in the air and call for help to attract the attention of the lifeguards or members of the public who can raise the alarm.'