£200 Million Growth Deal Signed
7 October 2014, 13:56 | Updated: 7 October 2014, 14:31
Projects ranging from road improvements, new cycle and bus links and improvements and skills and learning will all benefit from the money.
The Growth Deal was announced back in July, after the Local Enterprise Partnership was successful in gaining government funding to help projects to boost the local economy.
The key objective of this first round of funding is to carry out work on Cornwall's infrastructure. Improvements to rail links and the sleeper service have already been confirmed, and work on duelling parts of the A30 will be carried out.
There are also plans to improve the cycle network and expand the Camel trail.
The deal will see the government invest £49 million, mostly in the next two years which will unlock a further £149 million from the public and private sector.
Chris Pomfret, Chairman of the Local Enterprise Parternship tells Heart that Cornwall has historically had a "raw deal" when it comes to government funding, so they've fought hard to gain this investment.
He said "Signing our deal with the Minister is a real milestone, unlocking as it does millions of pounds of investment to grow the economy of Cornwall and the Isles of Scilly.
Our deal is the first tranche of investment vital to delivering our Strategic Economic Plan; a plan that could see around £1 billion of public and private sector monies invested in our economy between now and 2020."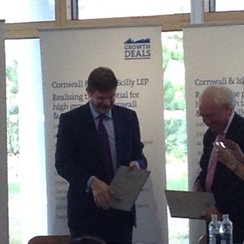 Minister for Universities, Science and Cities, Greg Clark has been in Falmouth to sign the deal and said "Signing the Growth Deal means we will be able to bring forward the delivery of a number of investments vital to Cornwall's businesses and communities.
The Cornwall & Isles of Scilly Growth Deal, will help to create up to 4,000 jobs and allow up to 6,000 homes to be built.