Police release CCTV after two men sentenced for murder of Cornish soldier
20 April 2016, 17:01 | Updated: 20 April 2016, 17:08
*CONTENT WARNING* Two men have been sentenced for the murder of Cornish soldier Dave Curnow, who died in September last year.
A jury at Truro Crown Court found 21 year old Connor Hammond from Trenoweth Estate, North Country, Redruth, guilty of the murder of Dave Curnow this afternoon (20th April 2016).
He'd denied the charge and has been on trial for the past week.
Liam Laing, 21, of Brookside, Chacewater, pleaded guilty to murder in January.
The pair have been given life sentences. Liam Laing been sentenced to 13 and a half years and Connor Hammond received 16 years in prison.
On the 20th September, in the early hours, the pair launched an unprovoked attack on 20 year old local soldier Dave Curnow.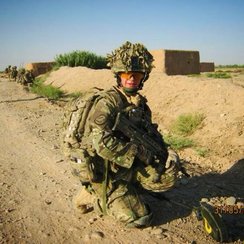 The soldier, who'd been the youngest Bristish soldier to serve in Afghanistan, had been on a night out in Redruth with friends when the pair fatally injured him on Chapel Street.
Harrowing CCTV footage was shown to the court, which showed the pair punching, kicking and stamping on Mr Curnow.
He was taken by ambulance to the Royal Cornwall Hospital before being transferred to Derriford Hospital in Plymouth where he died the following day from serious head injuries.
Devon and Cornwall Police say say the CCTV footage became central to the investigation.
The CCTV footage shows Laing (yellow arrow) and Hammond (green arrow) moments before the first attack on David Curnow (blue arrow). The pink arrow relates to a witness.
The footage also shows Laing and Hammond shak hands afterwards, and Laing acting out a stamping motion to his friends, after the final attack.
Detective Inspector Ben Beckerleg of Major Crime Investigation Team, said: "Offences like this are exceedingly rare in this area.
This was not a case of a fight between young men but rather an unprovoked and cowardly attack by the two defendants upon the victim David Curnow.
"Both defendants carried out a violent, repeated assault that included kicking and punching David while he lay prone on the floor.
"David's family and friends have been extremely dignified throughout the investigation and the police wish to express their upmost condolences for the tragic loss of David."