Child Steps On Needle At Perranporth
4 September 2018, 14:45 | Updated: 4 September 2018, 14:49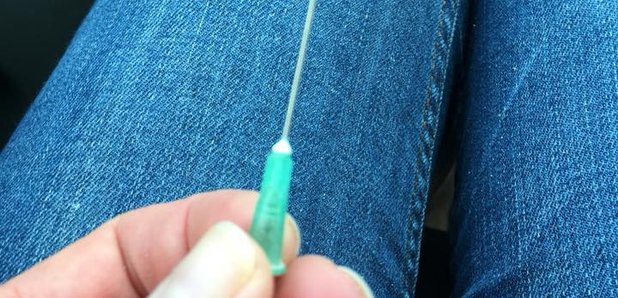 A Cornwall mum has described her horror after a fun beach trip saw her daughter rushed to hospital.
Seven year old Freya, from Falmouth, was dashed to A&E after she stood on a needle at Perranporth on Saturday afternoon.
Her Mum, Kate Pearson, says she seems to be okay, despite fears she could have picked up an infection.
Describing the moment Freya showed her parents the needle, after cutting her foot, she said: "Your blood runs cold and my heart sank and I felt really sick.
"I just thought straight away of a serious infection like HIV and hepatitis – like she's been put at risk here from this and we hadn't been able to protect her from it."
The incident happened near the Watering Hole bar on the beach, as Freya played with her little brother in the sand.
However, Kate says that the ordeal won't put the family off from heading to the beach in the future – and that it can happen anywhere.
She also described how Freya is now planning to warn her friends of the dangers when she goes back to school.
Kate said: "It hasn't changed our perception of going to the beach. We will still carry on enjoying it.
"I will be more vigilant but when something like that is buried in the sand, you just don't know that it's there.
"It's obviously scary but we just have to carry on enjoying ourselves because you can't live in fear of this happening.
"We just have to hope it doesn't happen again."
While Freya has already undergone tests, which have come back clear, she will need to have more tests to double check for any risk of infection in the near future.
In the meantime, Kate has posted to Facebook to warn other parents and praise the staff who reacted so quickly at Treliske.
She said: "Freya is absolutely fine and was so very brave. We're so proud of her - she didn't panic when it happened, didn't complain about waiting around when she was tired and hungry and was very calm when the nurse took her blood. She is amazing.

"Needless to say, all the staff at Treliske - the a&e receptionist, paediatric triage nurse, the staff nurse and the doctor - were incredible, so gentle with Freya and made extra effort to put our worries at ease. We are, as always, very thankful for our amazing NHS.

"The triage nurse told us that, sadly, there have been a large number of needle stick incidents on the beaches this summer. It's a sad fact of modern life that used needles can be found anywhere so be vigilant. And if it happens to you, go straight to your nearest a&e for treatment."