Cornish Mums Success At Sepsis Campaign
27 July 2016, 17:15
Melissa Mead has finally got government backing for a national Sepsis awareness campaign.
In 2014 her son William died of the condition when he was 12 months old, after medics failed to spot the signs. A report into his death criticised GP's, out of hours services and NHS 111.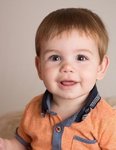 Melissa has been working towards raising awareness of Sepsis, working with the UK Sepsis Trust - they say there are 44,000 deaths from Sepsis every year.
After several meeting with the Health Secretary Jeremy Hunt, Melissa has now been given government backing, for a campaign starting in September.
It'll involve posters, leaflets, a video and even an app, and is aimed at both patients and doctors and nurses, and will appear at A&Es, walk-in centres and doctor's surgeries on World Sepsis Day on September 13th.
It's a stand alone campaign, which Melissa says is important, as the message is not diluted.
Signs of Sepsis include fast breathing or a fast heartbeat, high or low temperature, chills and shivering.
Severe symptoms include low blood pressure falling low, dizziness, disorientation, slurred speech, mottled skin, nausea and vomiting.