Cornwall parent wants better bereavement care
22 October 2018, 13:43 | Updated: 22 October 2018, 13:56
Two out of five parents who went back to work after their baby died said no-one talked to them about their loss.
A survey of more than 2,500 bereaved parents also found that most employers did not offer any support.
Now, a women from Cornwall is asking for more support and bereavement care for parents when they leave hospital.
Harriette Thompson from Wadebridge has suffered three miscarriages and is urging other women to speak out about their experiences to create change.
She has written a blog called http://www.thelongroadtomotherhood.co.uk to talk openly about her experiences and to help other parents who have suffered loss, but is also carthartic.
It starts with her marriage in August 2016 and goes on to talk about suffering two miscarriages in six months, how a room was left unused and empty and how she and her husband dealt with their grief.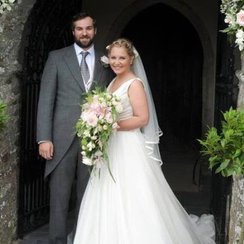 An audit carried out by Sands, the stillbirth and neonatal death charity, found that one in three Trusts and Health Boards did not house a dedicated bereavement room in every maternity unit they cover.
Sands, the stillbirth and neonatal death charity, is also calling on colleagues and employers to find the words to talk about the loss of a baby.