Cornwall's new fireboat takes to the water
3 August 2018, 09:15 | Updated: 3 August 2018, 09:18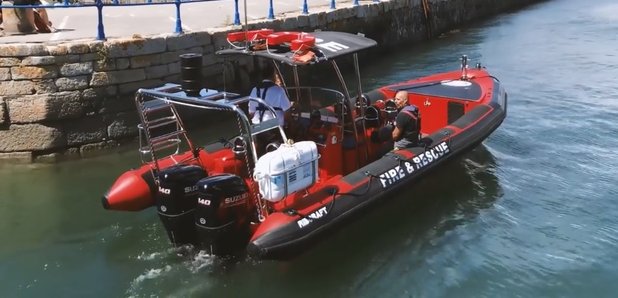 Cornwall's new fireboat is now in operation to help keep people safe in the water.
The Skath An Tanlu, which means fire boat in Cornish has been unveiled at a ceremony in Falmouth.
It will provide a fire and rescue response to more than 100 houseboats in and around the Falmouth, Penryn and Helford River areas, and it will be available to transfer personnel and equipment during emergency maritime operations.
The Skath An Tanlu will also provide fire and safety cover during busy regattas around Falmouth area, but could be called out to other events in Cornwall.
Cornwall Council cabinet member Sue James, who oversees Cornwall Fire, Rescue and Community Safety Service as part of her Environment and Public Protection portfolio, said: ''The Skath An Tanlu will provide our firefighters with the equipment they need to keep residents of Cornwall and visitors safe in an extremely popular maritime area.
''It was back in 1999 that Cornwall took delivery of its first fireboat after a growing maritime risk in the Falmouth area was identified. This was in part due to it becoming a popular choice as venue for large regattas involving hundreds of vessels.
''Fast forward almost two decades and that original fire boat the Transco Phoenix was coming to the end of its operation life. It gave us the opportunity to specially design a replacement which has been tailored to allow its crew to carry out their duties safely and effectively for many years to come.''
Assistant Chief Fire Officer Mark Hewitt said: ''We are delighted with the completion and delivery of Skath an Tanlu which replaces Transco Phoenix which served for 18 years. This resource provides an ongoing opportunity to ensure the safety of residents that live aboard vessels through the ability to provide home fire safety checks, as well as a mode of transport for responding to marine related fires should we be required. ''Linking our resources to risk remains a key priority for Cornwall Fire and Rescue Service and our new fire boat will enable operational crews to provide fire cover along our coastline. Our partnership working will ensure this valuable resource can also be utilised by other agencies at major events in harbour towns across Cornwall.
''I am grateful to Cornwall Council for the capital investment which ensures front line operational fire and rescue crews have the appropriate vehicles, tools and personal protective equipment to deploy to emergencies.''
The Skath An Tanlu is based at Falmouth Haven pontoons in the town's harbour, ready to respond to water-based emergencies.