Dog rescued after cliff fall near Padstow
20 September 2018, 15:32 | Updated: 20 September 2018, 15:35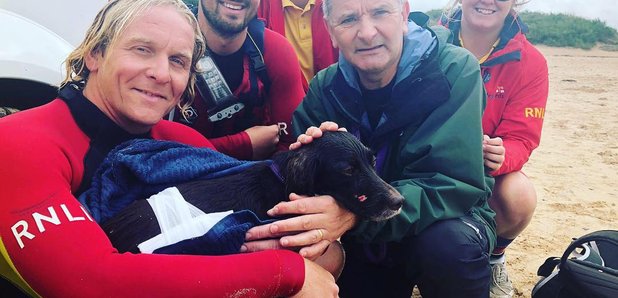 A Springer Spaniel has been rescued after falling 40ft off a cliff near Padstow.
RNLI lifeguards rescued Lola who was found trapped at the bottom of a cliff between the Porthcothan and Treyarnon beaches on Monday, with the tide coming in.
Lola suffered a few cuts and scrapes and a big gash on her tummy from her fall.
Back at the beach the RNLI lifeguards used their casualty care skills to bandage up the wound and cleaned her other cuts on her nose and leg, giving the frightened dog lots of love and cuddles.
Leon Bennett, RNLI lifeguard supervisor said; ''The lifeguards had located Lola's owner and they were reunited. He was extremely grateful and was heading to the vets to give Lola a check over. Lola's owner did the right thing in not attempting to rescue Lola himself, but we'd always recommend putting your dog on a lead when walking along cliff paths.''