Plans to dual the next section of the A30 in Cornwall revealed
29 January 2018, 12:36 | Updated: 29 January 2018, 12:50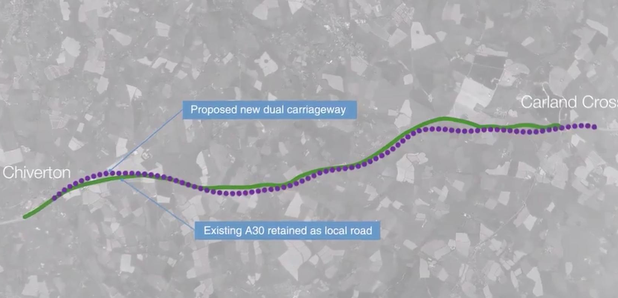 Highways England have unveiled their plans for work on an 8 mile bottleneck of the A30 in Cornwall.
HIghways England announced their preferred route for the £290 million scheme last summer.
Now we've had our first look at artists impressions of the new road from Carland Cross to Chiverton Cross.
A public consultation launches today, so we get to have our say on what we think of the plans.
Josh Hodder, Project Manager for Highways England, said: "We recognise the strategic importance of improving this section of the A30 in helping to unlock economic growth in Cornwall and the whole of the region.
"We look forward to sharing our progressed plans with local stakeholders, businesses and the community, full details are available from today, and we welcome all feedback during consultation.
"The scheme offers a number of benefits to the area - as well as boosting the area's economy, upgrading this stretch of the A30 is vital to improving motorists' journeys, cutting congestion, improving safety and connecting local communities"
As part of the plans a new dual carriageway would be built alongside the exisiting road, and the Chiverton Cross roundabout as it is now would be removed. Effectively, the new road would go right across it, with a motorway style junction and bridges installed.
It's hoped work on the scheme will start in 2020.
Public consultation events will offer people the chance to see detailed plans of the scheme, including junction and slip road access, roundabout and bridge designs, and meet with members of the project team. These will be held at the following:
• Friday, 2 February - St Erme Community Centre, near Truro TR4 9AP, 2pm-8pm
• Wednesday, 7 February - Blackwater Village Hall, Blackwater TR4 8ET, 2pm-8pm
• Thursday, 8 February - Perranporth Methodist Chapel, Boscawen Road, Perranporth TR6 0EW, 10am-4pm
• Saturday, 10 February – New County Hall, Treyew Road, Truro TR1 3AY, 11am-5pm
• Monday, 12 February – Victory Hall, Indian Queens, St Columb TR9 6PP, 2pm-8pm
• Tuesday, 13 February – Shortlanesend Village Hall, School Hill, Shortlanesend TR4 9DU, 2pm-8pm
• Wednesday, 14 February – St Michael the Archangel Church, Newquay TR7 1RA, 2pm-8pm
And information will also be available to view, from 29 January to 12 March, at the following local information points:
• County Hall, Truro
• Truro Community Library
• St Agnes Library
• Perranporth Library
• Redruth Library
• Newquay Library
Full scheme details will also be available on the dedicated consultation webpage from Monday, 29 January: www.highways.gov.uk/A30Chiverton