Farewell 771 Squadron
31 March 2016, 15:40 | Updated: 31 March 2016, 15:44
The Squadron was formally decommissioned at a special ceremony last week, and today marks their last day.
After 42 years of rescue operations from RNAS Culdrose, conducting over 9000 jobs and saving over 15000 lives, 771 Naval Air Squadron has come to an end.
At a special ceremony on the 22nd March 2016, Rear Admiral Keith Blount OBE, Head of the Fleet Air Arm said "771 Naval Air Squadron has made a huge impact across the Southwest. The personnel, and their famous Ace of Clubs helicopters will never be forgotten. They have saved an innumerable amount of lives, and they will take the Squadron ethos, Non Noblus Solum - Not Unto us Alone wherever they go.
At the end of the ceremony, the Commanding Officer of 771 NAS, Lieutenant Commander Richard Calhaem asked the Admiral for permission to "Decommission the Squadron."
Since 1974, 771 Squadron delivered search and rescue coverage across the Southwest 24 hours a day.
On the 1st January 2016, the squadron was officially stood down from its Search and Rescue responsibilities and the baton passed on to the Maritime and Coastguard Agency contractor Bristow Helicopters.
The Squadron worked within a 200 nautical mile radius of RNAS Culdrose. They have carried out over 200 rescues every year, ranging from plucking sailors from sinking ships, to airlifting casualties of road traffic accidents to hospital and assisting the police in carrying out aerial searches for missing people.
Team members have been given numerous awards and bravery medals, for rescues including the Fastnet race of 1979, the Boscastle Floods of 2004, the MSC Napoli in January 2007 and more recently aiding the crews of the stricken Panamera and La Sillon.
You can listen to our special programme by reporter Carrian Jones on the end of 771 Squadron HERE
https://soundcloud.com/heartcornwallnews/farewell-771-squadron
One of the iconic red and grey Sea King helicopters has a new home on a plinth just inside the gates of RNAS Culdrose.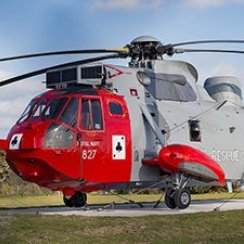 Commander Ian Fitter, Executive Commander of RNAS Culdrose said: "The Sea King was delivered to the Royal Navy in 1969 as an Anti-Submarine Warfare platform, and will continue in service here at Culdrose in the Airborne Surveillance and Control role until 2018.
"The helicopter will act as a permanent reminder of the efforts of aircrew past and present, and the important role that the Sea King aircraft has played saving thousands of lives over the past 40 years."