Farewell Flypast For Sea King Helicopters
19 September 2018, 11:04 | Updated: 19 September 2018, 11:10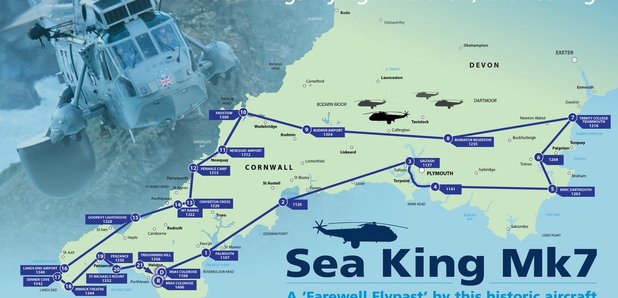 After nearly 50 years of service, the last military Sea King helicopters flying in the United Kingdom, will retire at the end of September 2018.
Some of the remaining aircraft have performed a three-hour farewell tour of the skies of Cornwall and Devon on Wednesday 19th September.
The Sea King Mk7 'Airborne Surveillance and Control' helicopters - known throughout the Royal Navy as Baggers - have been the 'eyes in the sky' of the Navy since 2003, searching for aerial threats to the Fleet or suspicious movements on the ground in support of land forces.
They owe their nickname due to the distinctive inflatable black sack or bag on the side of each helicopter.
It may look a rather cumbersome piece of kit from the outside, but inside that sack is the cutting-edge Searchwater 2000 radar capable of remarkably-accurate detection of surface and air targets.
Once enemy units are detected, the helicopter's observers can direct friendly air, sea or ground forces to intercept - as they did with devastating effect during the fighting in southern Iraq in 2003.
The baggers have got an impressive operational history, having delivered successfully in many conflicts in areas including the Gulf and in Afghanistan where during their five-year mission, they carried out over 2,000 operational sorties in temperatures ranging between 55°C and -15°C.
The information they fed back to ground forces led to the arrest of 150 terrorist suspects, 40 tonnes of drugs and 172 tonnes of home-made explosives being seized. However, the airframes are old.
Therefore, the capability that the Baggers have delivered, will soon be transferred to the more modern Merlin Mk2 helicopters under a project called Crowsnest.
The future: The Sea King aircraft may be disappearing from the skies but the personnel and the capability will not.
The 'Airborne Surveillance and Control' capability and the highly skilled and experienced personnel, will transfer to the Merlin Helicopter Force.
A new system called 'Crowsnest' will be fitted to maritime Merlin Mk2 helicopters, based at RNAS Culdrose.