Freedom For Entangled Seal After Four Months
3 October 2018, 15:59 | Updated: 3 October 2018, 16:07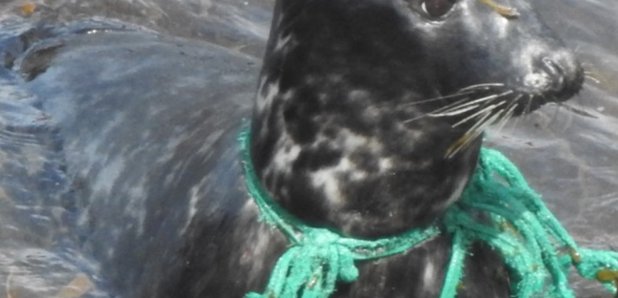 Back on 17th May 2018, Cornwall Seal Group Research Trust (CSGRT) surveyors sighted a juvenile male grey seal in West Cornwall that was entangled around the neck with green fishing net and became known as 'Lucky Star' in the hope he would be able to be rescued.
British Divers Marine Life Rescue (BDMLR) and the Cornish Seal Sanctuary (CSS) were alerted to the animal's plight, however he was scared back into the sea by loud noises from clifftop onlookers and nothing could be done.
However, his infrequent appearances and disappearances at different places made tracking him very difficult.
When he was seen, he would often be heartbreakingly just out of reach either hauled out on offshore rocks or swimming in the sea where it was impossible to get to him.
After a long absence, Lucky Star reappeared in West Cornwall in late August in a good spot to rescue, however the rescue attempt was despairingly foiled by noisy onlookers spooking him into the sea before the rescue team arrived, and he disappeared once again.
On 1st October, CSGRT volunteer Kate Hockley was out surveying when she spotted Lucky Star in a position where rescue might be possible.
Due to the nature of the area where Lucky Star had been found, it was necessary for rescuers to abseil down into the cove incredibly slowly and quietly so as not to disturb him into the water.
Lucky Star was finally pinned down.

It was very quickly apparent how Lucky Star had managed to survive for so long, as he displayed a considerable fortitude and was still very strong.
Underneath the net, a raw deep wound was revealed across the back of his neck that would have caused him a great deal of pain every time he moved.
The wound was cleaned out with an antibacterial scrub, and after being carefully assessed it was decided that Lucky Star was in good enough condition to be released straight back into the wild again to allow the healing properties of saltwater to do its work keeping the wound clean and healthy.
Winter is coming, and this may well have been our last chance to save him. 102 different entangled seals were recorded in Cornwall in 2017 alone.
Photo Credit: http://www.cornwallsealgroup.co.uk