Devon & Cornwall: Hot Dogs Car Warning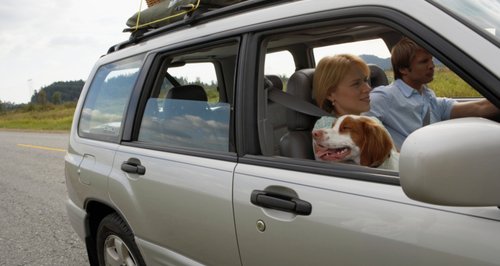 Police called 48 times in Cornwall and 81 in Devon to save dogs in 'hot cars' last year.
Now, we're being warned not to leave them in stuffy stationary cars where they can roast.
We have already had reports of three cases in Newquay and 2 dogs in Barnstaple being rescued by police who had to smash car windows to get the dogs water and cool them down.
It doesn't even have to be a warm day to kill and leaving a window open or a sunshield on windscreens won't keep your car cool enough.
If you're concerned about a dog in a car the advice is to ring the police on 999.
Or you can call the RSPCA 24-cruelty line 0300 1234 999
Below are some of the early signs of heatstroke:
heavy panting
profuse salivation
rapid pulse
very red gums/tongue
lethargy
lack of coordination
reluctance/inability to rise after collapsing
vomiting diarrhoea loss of consciousness.
Some dogs are more prone than others:
dogs with short snouts fatter/muscly
dogs long-haired breeds old/young dogs
dogs with certain diseases/on certain medication
Act quickly, heatstroke can be fatal!
If dogs show any signs of heatstroke, move them to a shaded, cool area.
Ring your vet immediately.
Urgently, gradually lower their body temperature.