ICE Discs Launched in Falmouth
17 March 2015, 15:15 | Updated: 17 March 2015, 15:16
It's hoped the ICE disc will help save lives in an emergency situation, giving paramedics information if you're unable to.
It's the same size as a tax disc and sits on your windscreen in the same place. The disc holds personal information including name, date of birth, next of kin and any relevant medical information.

The idea came from Sam Lonsdale and Mark Rosevean, who are based in Falmouth.
They've both got a history of first aid training and search and rescue response.
They say they've been involved in situations where it's been difficult to find out information about a casualty, because they're unconscious.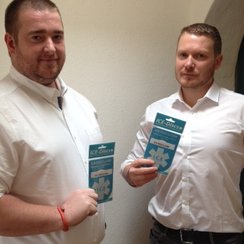 In an emergency situation, it'll enable paramedics and other emergency services to find details about you if you are unable to speak to them.

ICE is now widely recognised as the abbreviation for In Case of Emergency.

The disc also gives emergency services an idea of any prior medical conditions, or allergies to medicines.

Sam and Mark are already selling ICE discs nationwide, and have had some international orders.

You can find out more here