More Powers For Cornwall
19 September 2014, 15:17 | Updated: 19 September 2014, 15:38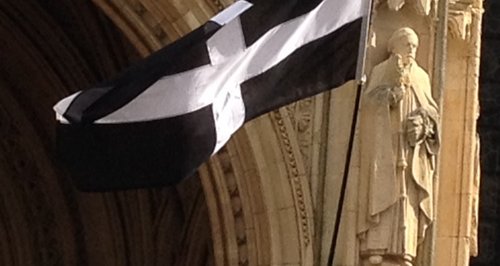 After a NO vote for Scottish independence, there's a call for Cornwall to be given more power from the government.
Cornish party Mebyon Kernow say now is the time to demand more power from the government on where money should be spent here.
The Prime Minister David Cameron has already promised Scotland some devolution, and has admitted that the voices of the rest of the UK must now be heard.
Mebyon Kernow leader Dick Cole says `Mebyon Kernow wishes to repeat its call for a mature, respectful and wide-ranging debate about the future of the whole of the UK, all its constituent parts and how they are governed - with Cornwall at the heart of that debate.
"Now is the time for the people of Cornwall to speak up and demand a new democratic settlement, which takes power from Westminster and brings it home to Cornwall.''
The Party is asking for an Assembley to be set up, much like the one in Wales, so Cornish people can make decisions on the things that affect them.
West Cornwall MP Andrew George has long campaigned for devolution, and before the vote on the Scottish Referendum, he told Heart that he "hopes Scotland will make the right decision and stay a part of the United Kingdom".
But he says Cornwall should be at the front of the queue when asking Westminster for more control over local decisions.
"If Scotland and Wales can be offered further powers then Cornwall must be next in line. After all, Cornwall is already recognised as a distinct region for economic development purposes, as a separate people and for its distinct language.
"After all, who is best placed to decide how Cornwall's housing stock and development plans are best managed? Inspectors in Whitehall or democratically elected representatives in Cornwall?"
Councillor Jeremy Rowe, deputy leader of Cornwall Council and cabinet member for devolution and localism, said "We're keen to make sure that this conversation isn't limited to Scotland, Wales and Northern Ireland nor indeed to English cities.
"Cornwall, and indeed other rural areas, have different needs but also different opportunities...Now is the time for the Prime Minister to make good on his encouraging words and give all parts of the UK the chance to control their own destiny.''
Heart spoke to Prime Minister David Cameron and asked him what his thoughts were on Cornish Devolution - to which he responded that he's always felt there's an opportunity for the Cornish to make more decisions locally.
But it's all down to the people living here and what they want. After speaking to people in Truro, Cornwall's only City, the majority said they wouldn't want complete independence, but more power and responsibility from Whitehall would be welcome.