"My Kids Dressed Me"
27 February 2015, 11:01 | Updated: 27 February 2015, 11:11
Pippa Best from Penzance is encouraging other mums and Dads to let their children choose their outfits
A Cornish mum has sparked a popular online trend, after letting her children choose her outfit for the day.
Pippa Best who lives in Penzance with her husband, 4 year old daughter and 6 year old son, decided to take the brave step of letting her kids choose what she wore.
So kitted out in pink tights, red patent shoes, a fur coat and a teddy bear for good measure, Pippa headed out the door for the school run.
She says she was met by some strange looks, but once she'd explained that she hadn't chosen her outfit, and it was in fact the styling skills of her 4 year old daughter, her plan and bravery, were met by laughter from other parents.
Now she's been sharing the idea on twitter with the hash tag #Mykidsdressedme and mums and dads from all over the world have been joining in.
She let her son decide what she would wear on another day, and she ended up in an Australian cork hat, pink coat and boots.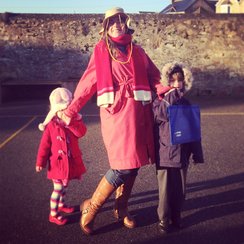 Pippa says it's not only fun, but makes the children feel like they've been given a grown up task of choosing the outfit that their parents will wear for the whole day.
"We dress them every day and choose exactly what they're going to wear they dont have very much control over that, so to give them the reins and say come on then, what do you think I'll look good in, or ridiculous in... actually being given an adult task to do, and decide what to dress mum in or make her look completely ridiculous, both of those things appeal to them equally".
You can read Pippa's blog post about it and her charity campaign HERE