WATCH: Cold Water Demonstration
19 April 2016, 15:38 | Updated: 20 April 2016, 07:33
Cornwall Fire Service demonstrate effects of cold water
01:51
44% of people who drowned in 2014 had no intention of going into the water.
In the five years between 2008 and 2013 there were 88 fire deaths in the South West, in 2013 alone 53 people lost their lives in drowning accidents in the same area.
Cornwall fire and rescue service are working with other agencies and charities to reduce drownings by 50% by 2016.
Andy Reynolds from the water rescue team based in St Austell said "Sadly it is clear from the statistics that many people who drown had no intention of entering water when they left home.
"They end up there because of accidents, trying to help someone else or save an animal. Water temperatures are still very cold at this time of the year and it will disable even the strongest swimmer very quickly, we urge people not to enter the water as this often just adds to the problems, call 999 and look around for lifesaving equipment to throw or anything that might help a casualty stay afloat".
Andy took part in a demonstration at Carn Grey Quarry to show what happens to our bodies when we're suddenly immersed into cold water.
His heart rate went up from 60 bpm to more than 160bpm as he entered the water, he began to shiver and gasp for breath, and his ability to swim became impaired.
Fortunately for Andy, his colleagues from Cornwall Fire and Rescue Service's water rescue team were on hand to get him out of the cold water, quickly and safely.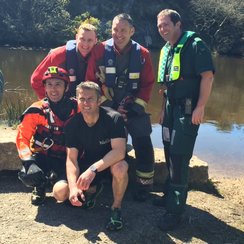 The team held the demonstration ahead of the Chief Fire Officers Association's Drowning Prevention and Water Safety Week 2016 which is taking place from 25 April to 01 May.
Water safety lead, Dawn Whittaker, said: "Most people would be shocked to hear that those people drowning just happen to be near water such as runners, walkers and fisherman.
"They are unaware of the risks and are totally unprepared for the scenario of ending up in the water. By highlighting this issue and making sure simple safety messages reach them we hope to reduce the number of those needless deaths."