Newquay: Family Found Out At Sea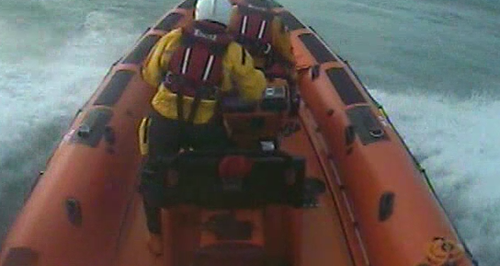 This is the moment a family of four were rescued after they had drifted half a mile out to sea due to strong cross winds.
RNLI lifeguards at Tolcarne beach in Newquay, George Tickner and William Jarvis, rescued them on Monday afternoon launching from Tolcarne Beach.
A family of four hired some water sports equipment, kayaks and paddle boards, from the local hire centre.
The man who hired the equipment to the family, who is also a member of the RNLI Newquay lifeboat crew, gave the family a safety talk before entering the water and told them to stay in the harbour.
Once in the water, the strong off shore winds led to the family starting to drift across the bay, half a mile from the harbour, due to the strong cross shore winds.
The family put their paddles in the air and called for help.
RNLI lifeguards Anthony Middleton, George Tickner (helm) and William Jarvis (crew) launched the Rescue Watercraft (RWC) within five minutes and quickly headed out towards the family.
The lifeguards picked up the family two-by-two and returned them to the shore safely. Everyone arrived back on shore at 4.30pm and the family of four thankfully walked away uninjured.
Credit: Chris Levi
https://www.rnlivideolibrary.org.uk/getvideo.aspx?vid=QeDD4zLm