Newquay Police Officers Get On Their E-bikes
15 June 2018, 15:22 | Updated: 15 June 2018, 15:28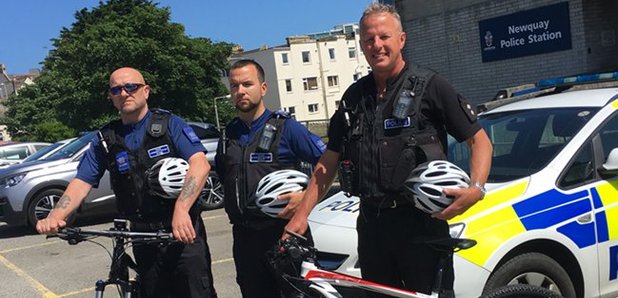 Police officers in Newquay have started using electric bikes
They are on loan for the summer and will help officers get around more quickly, as the battery assistance will allow them to travel at 15 mph.
Sector Inspector Dave Meredith said: "I am delighted that Newquay police are embracing technology and using e bikes to further improve our connectivity with the local community.
"Over the past two summers we have used Segways on the towns beaches. However these were limited to the towns beaches and could not be used on roads.
"This summer we will be using e bikes to get out and about and really engage with our communities.
"With a battery life of several hours, officers will be able to reach rural areas and patrol difficult terrain without becoming fatigued.
"No tax, insurance or MOT is required for e bikes, and they are very simple to operate.
"Police officers have to complete a simple cycling competence test to use bicycles. This same test is required for e bikes.
"I would like to thank Cornwall Wheels to Work for supplying Newquay police with these bikes for the summer season."