Nick Clegg Calls For Cornish Assembly
5 March 2015, 12:12 | Updated: 5 March 2015, 13:35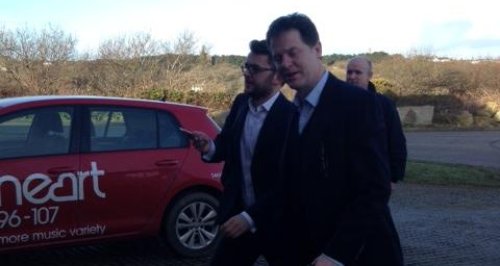 Deputy Prime Minister Nick Clegg and Lib Dem Council Group Leader Jeremy Rowe have announced plans for devolving more powers to Cornwall through a Cornish Assembly
On a St Piran's Day visit to the Duchy the Deputy Prime Minster said:
"In the next Parliament, Lib Dems would deliver a new law – a Devolution Enabling Act – which will enable Cornwall to take legislative power into a Cornish Assembly, much like that in Wales.

It could mean more power for representatives in Cornwall to improve areas such as housing, health care, education and public transport. Cornwall could choose to have different rules to England on a whole range of policy areas like academy schools, health service spending, right-to-buy, second home ownership and bus services.

When the Cornish Assembly is born, it would be up to those who are elected to shape Cornwall's destiny. But we want to give a few examples of what we think it might achieve. Cornwall could alter right-to-buy, keeping back vital homes for 29,000 people waiting on the local housing list. We could change planning law and Council Tax so buying up second homes in Cornwall comes with a greater price. And Cornwall could blaze a trail, integrating local NHS services and funding with the social care which people rely on all year round - that alone could save millions of pounds and improve thousands of lives."

Explaining how the Assembly could work, Nick Clegg and Jeremy Rowe said:
"There is no reason that an Assembly cannot be formed out of the existing Cornwall Council. If Scotland can manage with 129 MSPs for 5 million people, then nobody can sensibly argue Cornwall needs more than 123 representatives. Indeed, if local leaders in Cornwall choose it the Assembly could be smaller than the existing Council. Such a decision could free up valuable resources for parishes and towns, in turn bringing power even closer to local communities. This we call 'double devolution'."

A central mission for the Liberal Democrats in government has been to secure a strong economy, and build a fairer society. We've made a start with the great package of funding we secured for Cornwall. But to build an even fairer society, Cornwall needs the power to make sure a young person can get into town without a car; that a new family can find somewhere to live in the area they grew up in; and that our ageing population gets the seamless care they deserve."

Phil Hutty Parliamentary Candidate for South East Cornwall said:
"It isn't that long since there was a threat that South Wast Cornwall might have to share an MP with part of Plymouth. Local Liberal Democrats were very active in the fight to preserve our border, and this announcement today builds on that. Giving Cornwall more control over its over affairs would enable us to prioritise good local jobs, decent public transport and high quality care for the elderly, and I completely support this St Piran's Day announcement"