Plea To Ease Pressure On Royal Cornwall Hospital
23 February 2015, 12:13 | Updated: 23 February 2015, 12:28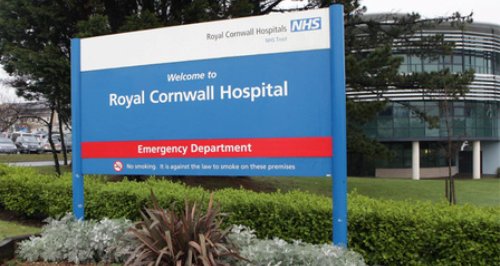 Bosses at the Royal Cornwall Hospital say they are managing to send people home, but there are ways the public can help reduce the pressure on the system.
Treliske remains on "black alert" - the highest alert on a scale bosses use to describe the amount of pressure the hospital is under.
NHS Kernow Governing Body member Dr Iain Chorlton said: "We've had a productive weekend and have got people home from hospital as soon as they're ready to leave.
"Today, we're urging anyone who is contacted by the hospital to collect someone, to do so as early as possible. This may seem an obvious request, but it will ensure beds are available for anyone who needs one. This is critical to reducing pressure in the system and getting it back on track."
As before, doctors are urging the public to stay away from Treliske - and say we should seek help from alternative services unless it is urgent.
These include:
The NHS 111 service for non-emergency medical help. It is available 24 hours a day, seven days a week, and is staffed by fully trained advisors and experienced clinicians.
Walk-in Centre: For treatment of cuts, bruises, minor infections, stomach upsets, strains and skin complaints, without an appointment. Cardrew Industrial Estate, Redruth, TR15 1SS. Open 8am to 8pm. Tel 01209 340997.
Out of hours GP service: Doctors recommend calling NHS 111 when your GP surgery is closed.
Minor injuries units in Cornwall at places like Bodmin Community Hospital can deal with ailments like cuts and sprains.
Urgent Care Centres: Camborne Redruth; St Austell and Liskeard community hospitals deliver GP-led urgent care services. You can be treated for minor to moderate injuries and illnesses without an appointment. West Cornwall Hospital Urgent Care Centre can treat minor and moderate injuries such as burns and scalds, fractures to legs, arms, ankles and wrists and lacerations that require stitching. It can carry out X-rays, CT scans and treate serious injuries.
Opening times: Camborne Redruth: Monday to Friday, 11am to 7pm. Saturday, 11am to 7pm; Sunday, 11am to 10pm.
St Austell: Monday to Friday, 11am to 7pm. Saturday, 3pm to 7pm.
Liskeard: Monday to Friday, 11am to 7pm. Saturday, 11am to 3pm.
Serious medical emergencies, such as chest pain, stroke, severe abdominal pain, severe bleeding, severe breathing difficulties, major broken bones and serious head injuries, go to the emergency department or dial 999.
Pharmacists are experts in providing medical information and advice, including coughs, colds, wheezing and minor ailments. You can just drop in to see your pharmacist and many have private consultation areas. They can also advise on any over the counter remedies available and, if you need specialist medical advice, can point you in the right direction.