Royal Cornwall Hospital's - 'Good, But Could Do Better'
27 March 2014, 12:36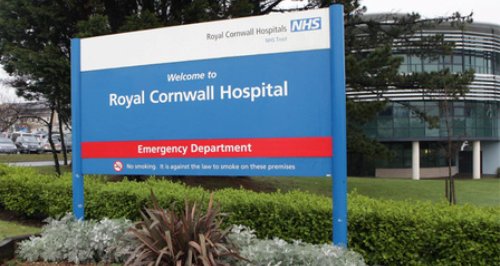 England's Chief Inspector of Hospitals, Professor Sir Mike Richards, has published his first report on the quality of care provided by Royal Cornwall Hospitals NHS Trust.
Royal Cornwall Hospital Treliske - Overall rating: Requires improvement
St Michael's Hospital, Hayle - Overall rating: Good
West Cornwall Hospital, Penzance - Overall rating: Good
While many of the services are delivered to a good standard, and while recognising the progress and improvement at the trust over the last two years, Sir Mike's inspectors conclude that overall the trust requires improvement.
The inspection team found that generally services at the trust's three hospitals were effective, caring, and well led.
But the main Royal Cornwall Hospital at Treliske needed to improve to be safer and to be more responsive to patients' needs.
They examined the care provided in accident and emergency, medical care (including older people's care), surgery, intensive/critical care, maternity and family planning, children's care, end of life care and outpatients. Inspectors also visited all three hospitals unannounced in one weekend.
The full reports are available at: http://www.cqc.org.uk/directory/ref
Across the trust, the inspection team found areas of good practice.
At Treliske Hospital these included:
Staff were caring and hardworking, and supportive of the hospital as a whole.
There was a strong sense of an improving service.
The respiratory and oncology wards were recognised for their innovative services and strong leadership which created good outcomes for patients.
The new A&E department was providing improved observation of patients, and improving their privacy, dignity and confidentiality.
The stroke service in A&E was recognised for delivering good outcomes to patients.
The development of the Frailty Assessment Unit was providing elderly patients with the support they needed.
There were good outcomes for patients in critical care, with mortality rates below the national average.
The outstanding service provided from a theatre team for people with learning disabilities needing care and support.
Inspectors said that the trust should improve in the following areas:
Patient records on some wards were incomplete.
There was conflicting and missing information in relation to pressure ulcer assessment and management, and in care plan records or nursing notes, placing patients at risk of not receiving the care they needed.
Too many operations were being cancelled or delayed due to a shortage of ward beds.
Patients were not always being discharged, or admitted to critical care, in a timely way due to a lack of available beds in other areas of the hospital.
The trust needs to plan and deliver care safely and effectively, involving the trust's partners to ensure that pressures and shortfalls in capacity are managed across the wider community.