Damning Report on Royal Cornwall Hospitals NHS Trust
5 October 2017, 05:00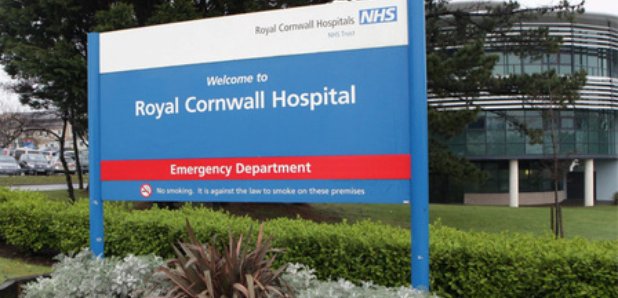 England's Chief Inspector of Hospitals has recommended that Royal Cornwall Hospitals NHS Trust should be placed into special measures.
It follows an inspection by the Care Quality Commission with rated the The Royal Cornwall Hospital as Inadequate overall.
Surgery, maternity and gynaecology, end of life and outpatient services were also rated as Inadequate, while critical care and children and young people's services have been rated as Good.
Services provided at St Michaels Hospital, Hayle, and West Cornwall Hospital, Penzance were rated Good. The Penrice Birthing Centre at St Austell has been rated Requires Improvement.
Overall the trust has been rated Inadequate for being safe, responsive and well led, although Good for caring.
The Chief Inspector of Hospitals, Professor Ted Baker, said: "The people of Cornwall are entitled to services which provide safe, effective, compassionate and high quality care.
"During this inspection and in our previous visits to the Royal Cornwall Hospital we have found persistent evidence of care that falls below those standards. As a result patients have been let down - and some have been placed at risk.
"It is clear that these are not isolated lapses. I am concerned that the management systems to assess, monitor, and deal with risks to patients have not been operating effectively and the Board has not had the oversight that is required.
"Throughout our inspections, we have invariably found the staff to be caring and compassionate. Despite their best efforts Royal Cornwall Hospitals has a history of poor performance, with a failure to make improvements over a number of years. The time has now come to bring in external support - which is why I am recommending that the trust goes into special measures.
"I recognise that there over the last few years there have been periods of instability at Board and executive level; it is only now that the trust has a full complement of board directors in post. I note that they have the support of the staff. There is a lot of work ahead of them to address the issues that have not always been dealt with in the past.
"I am determined that we will continue to monitor the trust's progress, in partnership with NHS Improvement and NHS England and in due course we will return to check that the improvements have been made."
Inspectors found that the hospital was struggling to deal with the flow of patients. Some medical patients were accommodated on unsuitable wards, and too many operations were cancelled or delayed because theatres were not managed effectively.
In surgery, safety was not a sufficient priority. There was limited measurement and monitoring of safety performance. There were significant numbers of serious incidents and never events.
At the time of the inspection, CQC required the trust to take immediate action to protect the safety of women in maternity whose condition was at risk of deteriorating. There were not enough midwives deployed to provide a safe service in all areas at all times. There was no dedicated high dependency area for deteriorating women and no process to ensure that there was always a trained nurse or midwife on duty to manage women in need of high dependency care.
In end of life care, the specialist palliative care team was too small to meet national guidance. It was only able to provide a five day a week service, and even this stretched the capacity of the team.
In outpatients and diagnostic imaging, appointment waiting lists were too long and patients were coming to harm through delays in treatment. The impact of waiting longer on individual patients was not being assessed well enough and there were no clear plans to manage and reduce the backlogs.
At the time of the inspection, the trust was asked to put in place steps to monitor cardiology and ophthalmology patients who were waiting for treatment. The hospital's critical care and children and young people's services were rated as Good. Inspectors found that children and young people were at the centre of the service and the priority for staff. Innovation, high performance and the high quality of care were encouraged and acknowledged.
Children, young people and their families were respected and valued as individuals. Feedback from those who used the service had been consistently positive.
The critical care service had a good track record on safety. Staff were aware of their responsibility to report incidents and the electronic reporting system had been improved. Staffing levels had been increased since the last inspection with less reliance on agency staff, although more doctors were needed to improve consultant presence.
A team of inspectors including specialist advisors from other healthcare organisations visited the Royal Cornwall Hospital at Treliske, St Michaels Hospital, Hayle, West Cornwall hospital, Penzance and the Penrice birthing unit, St Austell.