Seaside businesses encouraged to look after beach wheelchairs
21 March 2016, 16:11
Cornwall Mobility, has taken over the operation of the "fleet" of sand chairs from Cormac and Cornwall Council.
The charity say they want more businesses to look after the wheelchairs, so more people can experience our beaches.
The sand chairs, which are manufactured in Florida, enable people with a disability or a mobility challenge to access the beach in comfort, without having to use a conventional wheelchair.
The advantage of this is that conventional wheelchairs are not good on sand, and the beach environment can cause serious damage to them.
The chairs have large wheels, and can easily manouvre over small streams and rocky patches on Cornwall's beaches.
Cornwall Mobility have launched an online map, to help people find out where the chairs are located.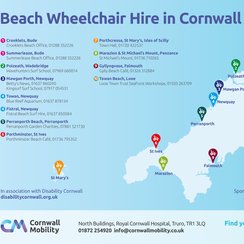 Seven of the chairs have been funded over the years by the Quinnian Trust, a brand new one for public use at Mawgan Porth has been funded by SMEGA, and the map was sponsored by the Falcon Inn at St Mawgan.
Cornwall Mobility CEO Edward Trewhella says "Having these chairs on the beaches around Cornwall represents another step in the long road towards inclusion and accessibility for everyone to Cornwall's principle asset, its beaches".
There are 12 located in 10 locatations across Cornwall. Two of them are looked after by Wavehunters in Polzeath. Tommy Potterton, Manager at Wavehunters says "these chairs are in constant demand from people with a disability, amputees, older people and anyone else who needs them. They were used 15 times on the first day we had them".
Any businesses based on or very close to a beach, who would like to provide their community with one of these sand chairs, are asked to contact Cornwall Mobility.