Six Year Old Saves Mums Life
5 February 2015, 15:21 | Updated: 5 February 2015, 15:28
A 6 year old girl from Falmouth dialled 999 at exactly the right time, saving her mums life

Six year old Tianna found her mum Jasmine unconcious with blood coming from her mouth at 5.30am on the 13th January.

Instead of panicking she very calmly dialled 999 and explained to the call operator what was happening.

She was able to give her name, age, address and let in a policeman who'd been sent to help before the paramedics arrived.

The brave little girl followed every single instruction and continued to check on her mother?s breathing and state of consciousness throughout the call.

She let a local policeman in and led him to her mum, shortly after which time the ambulance crew arrived and began to treat her.

All the staff from South Western Ambulance Service who had contact with Tianna are extremely impressed with her actions that day, which made all the difference to her mother.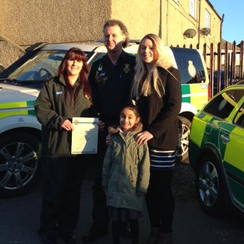 Vicki Fallding, an Emergency Medical Advisor working in the Trust's Clinical Hub in Exeter handled the 999 call Tianna made and said "I was surprised at how mature and calm she was. It was like speaking to a much older child. I've spoken to adults who, in similar circumstances, are very distressed and not always able to answer all the questions.

"Not only was she able to answer the questions I posed to her, but did so in such a clear and concise manner. We were all so impressed with the level of detail she was able to provide and would definitely encourage all parents to teach their children how to get help for them should a similar situation arise".

Tianna's mum Jasmine says she'd been suffering from seizures, so had taught her daughter what to do - "Tianna's step-dad taught her what to do in an emergency situation. He works away and expressed upon her the importance of knowing what to do.

"I am very proud and also very lucky that she was with me and knew exactly what to do".