Cornwall: Voluntary Smoking Ban For Play Areas
23 March 2015, 15:19 | Updated: 23 March 2015, 16:02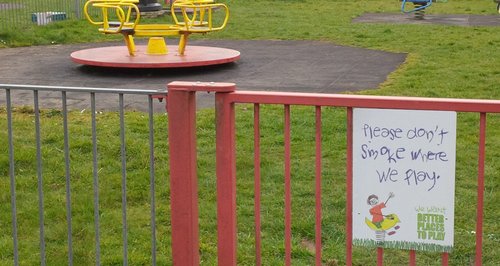 Six children's play areas are to become the first in Cornwall to sign up to a voluntary code to try and stop people smoking in them.
The initiative will be launched on Saturday 28 March 2015 with a fun day event at Roche Park.
The six Cornwall Council run play areas, covered by the smoke free code developed by the Smokefree Cornwall tobacco alliance, are Roche Park and Sandy Hill Park in St Austell, Coronation Park in Launceston, King George V Park at Four Lanes, Millpond Park in West Looe and Goldsithney Park in Penzance. A
A survey conducted recently in the South West found that almost 60% of those questioned said that smoking was a problem in their local play park. 98% of those interviewed said that they would support a voluntary ban on smoking in the play parks themselves.
The code already has strong local backing and is supported by the local Parish council's and park groups to discourage people who persist in smoking in play areas. Special signage has been developed requesting that children be allowed to play smoke free.
Gareth Walsh from the Cornwall & Isles Scilly Stop Smoking Service, said: ''Research shows that reducing child exposure to smoking decreases the uptake of smoking amongst young people in the long term. Children learn their behaviour from adults and so it's essential that in our communities tobacco use is not seen as part of everyday life.
''Children who live with smokers are at least twice as likely to become smokers themselves. We're piloting this across Cornwall to protect future generations from taking up the habit''