Storm Names For 2018/19
12 September 2018, 06:00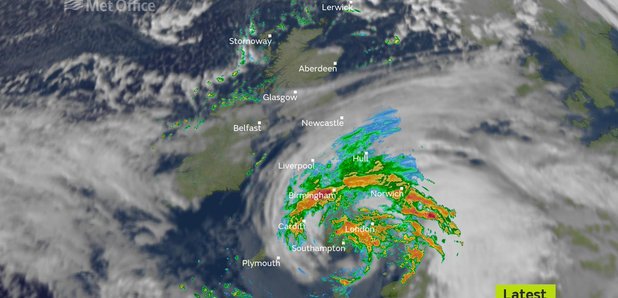 The Met Office today announces the storm names for 2018/19.
They include Ali, Gareth and Idris; this will be the fourth year the UK Met Office and Ireland's Met Eireann run the 'Name our Storms' campaign.
A storm is named when it is deemed to have the potential to cause 'medium' or 'high' impacts on the UK and/or Ireland. Storms will be named for weather systems that we expect an Amber or Red warning will eventually be issued by Met Eireann and/or the Met Office.
As well as wind, impacts from rain and/or snow will be considered in the naming process. New research has shown that 3 in 4 Brits (77%) found naming storms useful for making the public aware of severe weather with almost 2 in 3 (63%) agreeing that storm naming was useful for letting them know when to take action or prepare in advance.
Only a third said they securely fasten down windows and doors when receiving storm warnings with just 26% saying they secure loose items in their garden to prevent broken windows.
Surprisingly only 22% said they would check on family friends or vulnerable neighbours to check they were safe.
The research also identified some popular names Brits most wanted to see included in the list of names, in which Idris (included in this year's names) ranked among the top boy's names most people wanted to see.
As with predictions over the next James Bond, Idris was found to be more popular than James, Tom and Aidan.
The most popular girls name choice was Katy, which had 20% of the vote. This was followed by 'popstar rivals' Ariana (18%), Nicki (10%) and Taylor (9%).