Students Get In Touch With "Inner Chimp"
22 May 2014, 16:00
A mind management technique that's been used by Olympic Athletes, is being used by students at Cornwall College.
Chimp management is a technique devised by Professor Peters, the psychologist behind Team GB's Olympic cycling team.
Sir Chris Hoy and Victoria Pendleton used his "Chimp management" theories to stay calm and collected, winning medals at London 2012.
Now the same techniques have been taught to A level students at Cornwall college's St Austell campus.
Head of A-levels at Cornwall College St Austell Russell Lawrance has been delivering workshops in Chimp Management.
The mind management programme helps people to understand the structure and functioning of the mind and how to apply it to get the best out of yourself and others.
It recognises the brain function as the Human logical side and the Chimp emotional side, backed in the same way as a Computer with a hard drive to store responses when the Human and the Chimp are brought into action at times of stress.
Russell Lawrance said "I am a massive advocate of the work of Prof. Steve Peters and I have been using the techniques with students. I simplify the theory of how the brains works, controlling and managing emotions, not supressing them (Chimp), ensuring the control lies in logical thinking (Human)."
One student who is currently taking AS-levels in Geography, Geology and Sociology alongside an A2-level in English Language at Cornwall College was particularly taken by the approach.
Tristram Keats, 18, from Liskeard, said "The workshop was very interesting and definitely has an application. Initially people weren't so sure about it but when you actually sit down and listen to it, it makes a lot of sense.
"I've already had a couple of exams and it's definitely helped me. If I see a question I dont like I can now logically put it aside to come back to later rather than panicking and overlooking other questions. I'm able to make my human side override the emotional side of my chimp".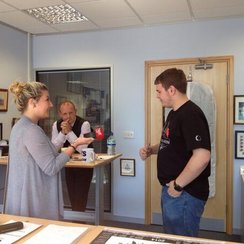 Heart's Carrian Jones spoke to Russell and Tristram in St Austell.
Earlier this month England football manager Roy Hodgson announced that Prof. Peters would be supporting the team in the run up to World Cup 2014.
As well as training A-level students, Russell Lawrance, who also heads up Cornwall College's sports department, has spoken on the subject at Penrice Academy in St Austell and uses the techniques in his involvement with various sports teams.