Supplies Loaded Onto Ebola Ship
14 October 2014, 16:37 | Updated: 14 October 2014, 16:45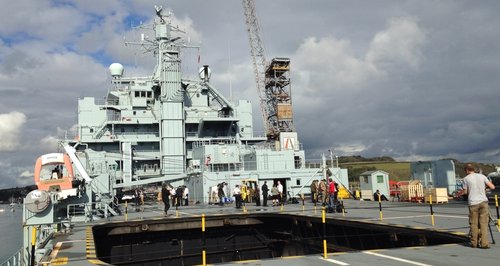 RFA Argus arrived in Falmouth Docks at the weekend and is now being loaded up with supplies before heading to West Africa.
The Ship will carry more than 750 military personnel, medical supplies, three Royal Navy Merlin Helicopters and amphibious craft used by the Royal Marines.
It's being loaded up with equipment before being deployed to Sierra Leone at the end of the week.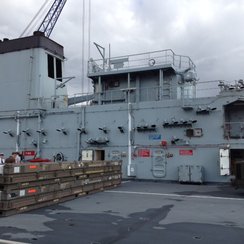 The huge ship has an onboard hospital with 100 beds and a critical care unit, but no-one with the deadly Ebola virus will be allowed on board.
All personnel who leave the ship will be screened before coming back on, to ensure the strictest measures remain in place to keep everyone on the ship fit and healthy.
Commanding Officer Captain David Eagles says "there will be inevitable and understandable concern from the families, however I am confident we have the control measures in place to keep our people safe and make sure everyone returns safely to their families".
Anyone who catches Ebola will be evacuated to a British medical facility in Sierra Leone's Kerry Town.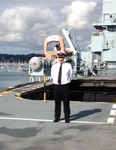 Almost four and a half thousand people have now died from the disease.
Crew onboard RFA Argus will take equipment and medical supplies onto land, to set up Ebola clinics to help tackle the outbreak of the disease.
The ship is 574ft long and is part of the Royal Fleet Auxiliary.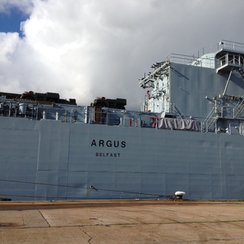 Royal Marines from Plymouth based 42 Commando are busy loading landing craft and boats, and are being briefed alongside Royal Navy servicemen and women who are also being deployed.
When the ship leaves on Friday, onboard there will be 140 ships company personnel, 80 medics, 80 naval air service personnel from RNAS Culdrose, 50 members of the 42 commando Royal Marine unit and 20 members of the Royal Marines Assault Squad.