Warning Over Cornwall 'Seal Selfies'
6 September 2018, 06:00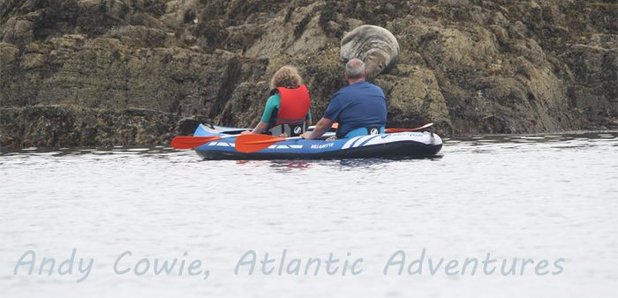 Conservationists in Cornwall are warning kayakers not to get too close to seals to take photos.
It comes after photos on Facebook showed people paddling close to where the wild animals were resting on rocks in order to get a picture.
Posted by Marine Discovery Penzance, the photos show a number of people approaching the creatures in Mounts Bay over the summer.
The Cornish Seal Sanctuary is now urging beachgoers and water-users not to approach them especially as we get into breeding season.
Emma O'Neill, an animal care assistant there, says there are a number of risks involved with getting too close.
She said: "We are seeing more and more seals that are coming into us that may have been abandoned or disturbed by people.
"We're also seeing more seals in the wild that actually have injuries related to being too close to boats and in harbours, such as fishing hook injuries and boat injuries.
"My advice is not to approach or go near any wild seal, especially if it is a seal pup on its own or with its mother.
"The pup has to feed from its mum every few hours and approaching that pup could disturb feeding or result in the pup being abandoned altogether."
However, she also warns that it isn't just the pups that could be affected.
She says that people could get hurt, too.
She said: "They do have a very strong bite on them and they actually carry bacteria in their mouths which can cause quite a nasty infection if you do get bitten by a seal.
"Our advice really is to try and keep your distance – don't approach a seal with a camera."
To report a seal that could be in trouble, call the Cornish Seal Sanctuary on 01326 221361 or contact the British Divers Marine Life Rescue on 01825 765546.
If you are concerned for an animal's welfare, the sanctuary advises to not approach the seal and to wait until trained and experienced rescuers are on the scene.