Work Starts On A30 Bottleneck
23 March 2015, 15:07 | Updated: 23 March 2015, 15:16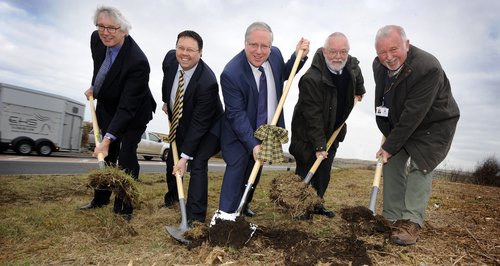 Secretary of State for Transport Patrick McLoughlin MP has cut the first turf on the A30 Temple to Higher Carblake road improvement scheme, heralding the start of preliminary works on dualling one of Cornwall's most notorious bottlenecks.
Many years in the planning, the works will replace the existing 5km stretch of road with a dual carriageway, a scheme which has been welcomed by motorists, the business community and residents alike.

During the ceremony the Minister was joined by representatives from Cornwall Council, the Highways Agency, the Cornwall and Isles of Scilly Local Enterprise Partnership, the Federation of Small Businesses, Cornwall Chamber of Commerce, Visit Cornwall, contractors Kier and local residents.

Following the granting of the Development Consent Order last month, there was a six week period in which the decision could have been challenged in the High Court. As this period has now ended, preparatory works, including vegetation clearance and the issuing of compulsory purchase orders can begin at the site.

And with one A30 dual carriageway road scheme shortly due to come to fruition, the Minister also took the opportunity to learn more about the potential improvements further west during his visit to Cornwall. Ahead of the first of three public engagement events to find out views from road users and residents on the potential to build a dual carriageway on the A30 between Carland Cross and Chiverton Cross, the Minister met with representatives from the Council and Highways Agency at the Hawkins Arms in Zelah.

Councillor Bert Biscoe, Cornwall Council portfolio holder for Transport said:
"The partnership to undertake this project marks another stage in a journey which began many years ago, in which Cornwall's excellence in managing, maintaining and developing its transport infrastructure is sufficient to encourage the Government and the Highways Agency to have confidence in our ability to work to the highest standards in the modern setting.
The setting of this road is at one of Cornwall's finest environmental assets - Bodmin Moor - and the scheme needs to blend high quality engineering with a minimal impact - it is a positive challenge which the design and delivery teams will, I am sure, meet with distinction."



Mick Martin, Chairman of the Temple to Bodmin A30 Action Group, said;
"The road improvement at Temple is fantastic news for the local community, the whole of Cornwall and our many visitors. Today I am proud to report that as a result of our dogged determination we have achieved the goal we set ourselves seven years ago."

Chris Batters, Cornwall Council Local Member for Lanivet and Blisland, said;
"For many years, motorists travelling the A30 road have suffered a hiatus when reaching the Temple stretch east of Bodmin, but finally after years of campaigning, the dualling of this stretch of the road is about to be commenced. Congratulations to all the parties taking part in this campaign, and the motorist and Cornish business owners can now look forward to a less stressful and far quicker journey across the beautiful Bodmin Moors."

Transport Secretary Patrick McLoughlin MP said:
"Boosting Cornwall's road links will make the county an even more attractive destination for businesses and visitors. I am absolutely committed to delivering the road, rail and air infrastructure Cornwall needs. This is a key part of the government's long term economic plan to boost jobs and growth and improve the lives of hardworking families up and down the country."

Chris Pomfret, chairman of the Cornwall and Isles of Scilly Local Enterprise Partnership (LEP), said;
"We are delighted that work is getting underway on the A30 at Temple because this stretch of road is used by almost 40% of Cornish businesses at least once a month. Road congestion costs time and money which is why dualling the A30 remains one of the top priorities for our business community and the LEP."

Andrew Page-Dove, Regional Director for the Highways Agency, said:
"This is a fantastic opportunity to bring about benefits to both businesses and visitors to the region by removing the bottleneck from the A30 and opening up Cornwall to visitors and local residents. We are now starting to look at the next section of single carriageway between Carland Cross and Chiverton Cross which we hope we will be able to complete by 2021."