Deepcut Recruit Death Ruled As Suicide
3 June 2016, 12:16 | Updated: 3 June 2016, 20:34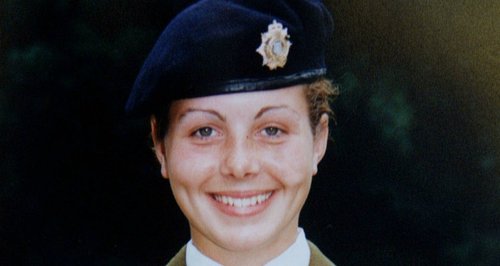 18-year-old Private Cheryl James died from a fatal bullet wound at Deepcut barracks. 21 years on, an inquest in to her death has found no evidence that Private Cheryl James was unlawfully killed and she died of a 'self-inflicted' gunshot wound.
The parents of Cheryl James have been praised for fighting for justice by the coroner of an inquest in to the death of the young Private at Deepcut Barracks 21 years ago.
The coroner at a new inquest into the death of the Army recruit at the Deepcut Barracks in Surrey's ruled she died of a "self inflicted gunshot wound" and there was no evidence that she was unlawfully killed.
18 year old Private Cheryl James was one of four recruits to die at the base between 1995 and 2002.
Bryony Waite reports from outside Woking Coroner's Court.
The coroner Brian Barker QC said to Des and Doreen:
'Mr and Mrs James, for you it has been a long and very harrowing road to try to obtain a proper forum for the investigation.'
'We have explored as best we can what could be unearthed at this late stage within the legal constraints I am bound by.'
'Clear answers as to why are just not there to be seen.'' He praised Mr James' tenacity and said his battle for justice had been key in encouraging the Army to drive through reforms to improve the welfare and support it gives its young recruits.
Mr Barker said there has been 'a complete re-evaluation of the approach to proper care given to young people who volunteer to train and eventually serve their country.'
It's been described as 'regrettable' that her death wasn't better investigated at the time by the coroner but Coroner Brian Barker QC has found there is no evidence Private Cheryl James was unlawfully killed at the barracks and has ruled that she died of a self-inflicted gunshot wound.
Des James Spoke to Heart Reporter Bryony Waite:
Speaking at the conclusion of the fresh inquest at Woking Coroner's Court, Coroner Brian Barker QC said:
'This has been a long and a difficult exercise, and many events since the autumn of 1995 have had to be examined.'
'I begin by recognising the patience and loving fortitude of Mr and Mrs James. They have waited for far too long for the proper examination of the circumstances of their daughter's death and it is clear to all they have devoted immense energy and devotion to that end.'
'It is highly regrettable that the investigation of Ms James' death in 1995 was not more thorough and the scene of her death not more fully and scientifically investigated.'
'Had it been, some of the inconsistencies of memory might have been avoided and the scientific evidence might have been of much better quality.'
Brian Barker QC went on to say Surrey Police had apologised and recognised that they should have recognised the importance of the initial investigation in 1995.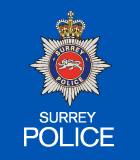 Surrey Police Statement:
Following today's inquest verdict into the death of Cheryl James Surrey Police has released the following statement:
Detective Superintendent Adam Hibbert said: "The death of Cheryl James was a tragic loss of a young woman's life and we recognise this has been compounded for her family and friends as a result of the way her death was subsequently investigated.
"The Force has long accepted mistakes were made during the initial investigation. The Force should have maintained primacy for the investigation into Miss James' death and has previously apologised to the family for those errors. Today, we reiterate that apology.
"A dedicated team of officers and police staff have been working for the past two years to disclose all relevant material, which amounted to almost 8,000 documents, to support the coronial process.
"Due to the huge amount of documentation that had to be reviewed this has been a necessarily detailed process which was not possible to do quickly, however, we recognise this has meant it has been a challenging time for Miss James' family.
"We know Miss James' family have long been seeking answers to the circumstances surrounding her death. The evidence has now been thoroughly examined throughout this new inquest and today our thoughts are with the family and friends of Miss James as they reflect on the Coroner's verdict.
"We are also acutely aware that today's finding will be relevant to the families of the three other young soldiers who died at Deepcut Barracks between 1995 and 2002 and we would like to reassure them that we will fully support any disclosure needed for future coronial processes that occur."
Des James told us how he felt about the case.
Private James had been carrying out lone guard duty at Deepcut barracks when she was found dead, a situation the coroner said military rules should not have allowed.
'It seems to me that lone armed guard duty is a potentially dangerous activity,'
A policy was in place that meant women should not be left alone on guard duty, but Mr Barker said:
'There was at Deepcut a wholesale lack of awareness of that provision.'
The lack of awareness of the rules was common to both officers and non-commissioned officers, he said, and suggested it was 'not an isolated, individual failing'.
He said it was 'at least arguable' that the potential risk to women on lone guard duty 'should have been identified and steps taken to reduce that risk before Ms James's death.'
The coroner has said that Deepcut Barracks failed in its duty of care to its young recruits.
There were far too few officers to train and look after the young squaddies, who were left bored and indisciplined, Mr Barker said:
'The ratio of staff to squaddies was inadequate.'
'While some intermittent training was provided, there were too few permanent staff to deliver it and put into place a structured regime to occupy and meet a duty of care to those young men and women.'
One witness told the inquest that Deepcut was like a 'sausage machine that had become clogged'.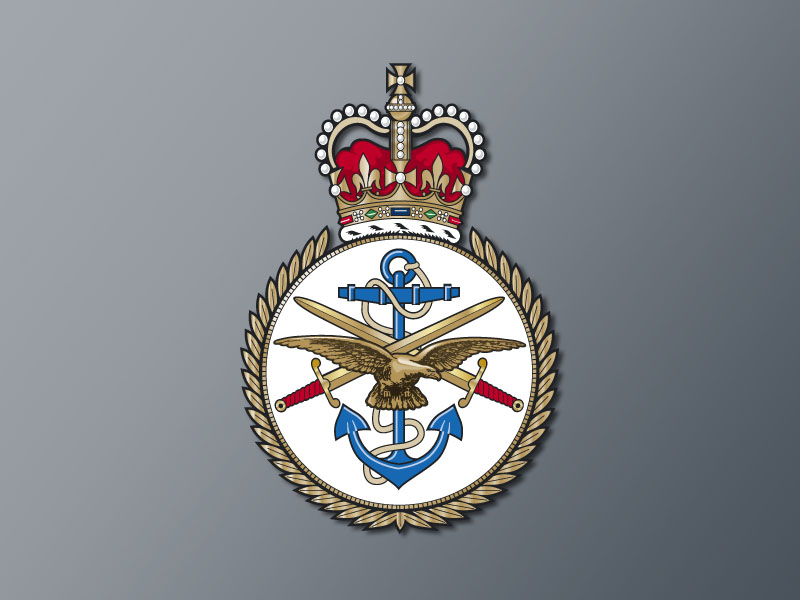 MOD Statement:
Speaking outside the Coroner's Court, Brigadier John Donnelly, head of Army Personnel Services Group, said:
"I want to repeat the apology I gave to the court and Mr and Mrs James at the start of the inquest. We are sorry for the low levels of supervision that were provided for the trainees at Deepcut in 1995 and for the policies that were applied to using trainees for guard duties, and that we took too long to recognise and rectify the situation. This inquest has been a difficult time for Cheryl's family and friends and I want to pay tribute to the dignity that they have shown, especially to Mr James whose courage, fortitude and generosity has been an example to us all.
"The Army has made profound changes since 1995 which the coroner has acknowledged, but we do recognise that change is a continual process.
"This has been a comprehensive investigation and I hope that the coroner's careful and balanced findings will not be overlooked. We will now study the conclusions carefully to ensure that we continue to train and care for our soldiers to the very highest standard fulfilling our obligation to their families.
"General Sir Nick Carter, the head of the Army, has publicly committed to improving the Army's culture to ensure that the Army is demonstrably inclusive, that it respects difference and is a beacon of equality of opportunity. Or to put that another way, an Army where a talented young woman like Cheryl James would have thrived and excelled."
The coroner also found that there was evidence of inappropriate sexual relationships between commanding officers or instructors and trainees.
Mr Barker said the Army accepted that some instructors 'saw young females as a sexual challenge'.
'The evidence of this inquest supports the presence of consensual but improper relations between instructors and trainees.'
He said more serious allegations of abuse were 'outside this inquest's scope', but added 'the general culture of Deepcut in 1995 was far below the standard expected.'
Bored and without adequate supervision or training from their officers, the young recruits at the barracks turned to sex and drinking to occupy their time, he said.
Non-commissioned officers (NCOs) gave out guard duty to trainees as punishment, Mr Barker said, which was against army rules.
One senior NCO described Deepcut as the worst two-and-a-half years of his time in the army, telling the inquest he felt little care was given to recruits.
There was also overwhelming evidence of a 'sexualised' atmosphere at Deepcut, Mr Barker said.
Given the lack of a structured life for trainees at Deepcut, he said it was 'unsurprising that trainees turned to each other for stimulation'.
While sexual relations were not prohibited between trainees, the extent to which they were able to have sex was 'inappropriate', he said.
Mr Barker said it would have been 'unreasonable' to think Pte James was sexually naive, with evidence showing she had a number of sexual partners from the beginning of her training. But he said there was 'no basis in the evidence' that the army or Deepcut regime sexualised her.
Private James, from Llangollen, North Wales, was one of four soldiers who died at Deepcut between 1995 and 2002 amid claims of bullying and abuse.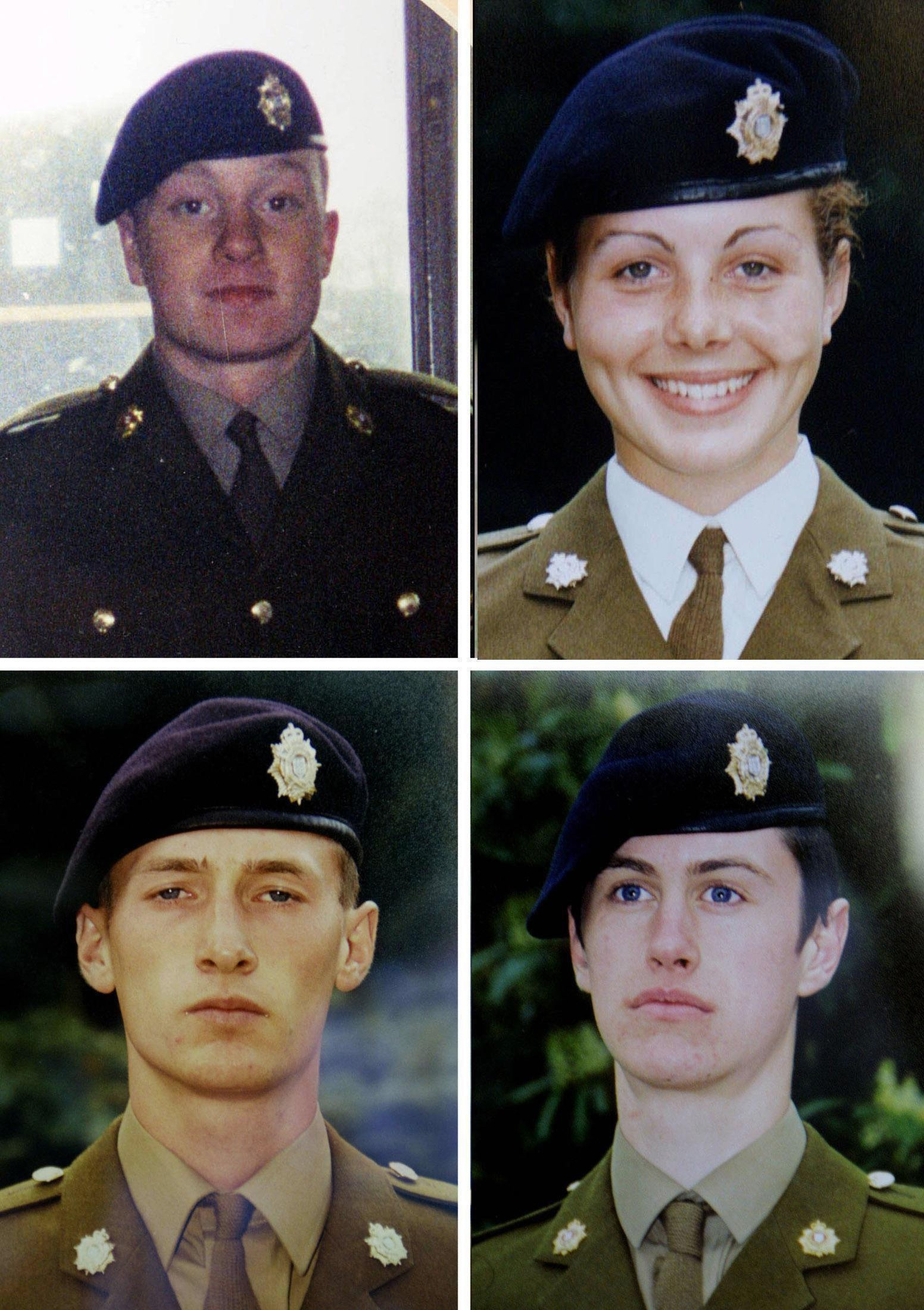 Privates Sean Benton, James Collinson and Geoff Gray also died from gunshot wounds.
Coroner Mr Barker said several reviews and investigations into the culture at Deepcut had revealed 'the many and obvious inadequacies and shortcomings' at the barracks.
But he said his findings would only look at criticisms of the culture and command at the barracks insofar as it was linked to Pte James's death.
He said: 'Many witnesses had adverse experiences there, but it is outside the remit of this inquest to inquire into events concerning people other than Ms James, or to make findings about other matters.'
'For this reason, I've left unexplored many alleged events and shortcomings of the Deepcut regime except where there is some basis for saying they might have been linked to Ms James's death.'
During his conclusion, the coroner launched a scathing attack on welfare standards at Deepcut.
Des tells us what it's like to hear that decision.
He criticised the lack of female officers - an Army wide problem the inquest heard - and the lack of welfare officers and support structures. Mr Barker said the ``haphazard provision of welfare support was insufficient''.
The inquest heard Pte James had mixed feelings about being in the Army and often spoke with friends and other recruits about being unhappy and wanting to leave.
On one occasion she was fined 50 for the negligent discharge of a rifle, and for a time rang home a lot to say she was homesick.
But the inquest heard that when Pte James left initial training at Pirbright she was a 'poster for the Army'.
Mr Barker said there was evidence that a sergeant, Andrew Gavaghan, shouted at Pte James and made her cry. But amid suggestions of bullying of recruits at Deepcut, Mr Barker said it was likely that if the incident with Sgt Gavaghan bore any major relevance then others would have come forward, but none did.
Mr Barker said there was no evidence she had spoken to or written to any friends about the encounter with him, and there was 'no evidence' that it had played on her mind later in November 1995.
Pte James was unhappy in the Army and often spoke about leaving and going awol.
Shortly before her death she spoke about shooting herself, but her friends thought this was just 'banter', the inquest heard.
Five months before her death Pte Sean Benton, from Hastings in Sussex, died from a gunshot wound at the barracks. On the coach back to the barracks shortly before her death she chatted to a friend about this and said it would be 'really easy to shoot yourself'.
On another occasion she told an electrician that the only way to get out of the Army would be to 'put a gun to your head', but those with her took this as a joke.
Described as ``vivacious and bubbly'', Pte James was caught in a love triangle with two men at the time of her death.
She had been in a relationship with Royal Engineer Simeon Carr-Minns but then started a sexual relationship with another squaddie at Deepcut, Paul Wilkinson.
Both men wanted to be in an exclusive relationship with her and were upset at the situation, the inquest heard.
Pte James was the brunt of criticism and labelled 'a slag' by some at the barracks, but did not appear overly upset by the remark, the hearing was told.
But she was unhappy and upset by the situation she found herself in, the inquest heard.
On the day of her death, Pte Wilkinson went to see Pte James while she was on guard duty to give her an 'ultimatum'' to choose between him and Mr Carr-Minns.
He arrived at around 7.30am and they spoke for about 45 minutes, the inquest heard. Mr Barker said:
'His recollection was he was giving her an ultimatum because he didn't want to be messed around.
'He told her she should choose between him and Mr Carr-Minns, but if she wanted to stay with Mr Carr-Minns they could still be friends.'
The inquest heard Pte James told him she she wanted to be with him and he left happy and believing she was fine. The coroner ruled that he did not consider Pte Wilkinson a suspect in Pte James' death.
Pte James's body was found 19m from the kerb in a copse near the Royal Way Gate at Deepcut, the inquest was told. She was wearing camouflage and was not hidden from view, and Mr Barker said there was no evidence to suggest the body had been moved, other than by those who checked to see if she was still alive.
There was no evidence to show her clothing had been disturbed.
Mr Barker said it was impossible to say exactly when the shot that killed her was fired, but suggested it occurred at 8.25am. Paramedics, civilian and military police and investigators were called to the scene, but Mr Barker said it was clear that it was 'not treated as a scene of crime might be' or preserved adequately. And he said that almost from the outset it was assumed that Pte James had died from a self-inflicted injury.
Army officers and the emergency services were all quick to assume that Pte James' death was suicide and failed to preserve the scene of her death, the coroner said.
Mr Barker said that 'with hindsight'' some of those who examined the scene agreed there should have been a fuller examination.
He said: 'Although some steps were taken to limit disturbance at the scene, it was not treated as a scene of crime might be. It was not preserved.
'Almost from the outset the impression from the Army and the emergency services was that this was a self-inflicted injury.'
The inquest also heard that the post-mortem could have been more thorough and that the bullet fragments were disposed of - something acknowledged as a mistake in hindsight.
Delivering his conclusion following a three-month inquest into her death, Coroner Brian Barker QC said he was satisfied there is 'no' evidence she was unlawfully killed.
He said: 'When I ask myself if there is sufficient evidence with which I can properly reach a conclusion of unlawful killing the only answer I have is 'no'.'
Formally recording his verdict, Mr Barker said Pte James died as a result of suicide. He said:
'Without knowing the reasons for her actions, it is of course difficult to identify the cause.'
'Ms James' morale may have been lowered by the general regime where she lived.'
'In the last week of her life, she wrote of her wish to leave the Army and her plans to feign migraines to achieve this.'
'There is, however, no basis to establish that Ms James' disillusionment with the Army or any dislike of the Deepcut regime was, on the balance of probabilities, such as to cause her to wish to die. Mr Barker suggested the system at the barracks had created a 'dangerous situation and provided the opportunity for her to take her life. That is lone armed guard duty'.
He added: 'Ms James should not have been on armed guard duty alone. Moreover, the failure sits within the wider context of the Army at the time neither recognising, nor taking any steps to reduce, the potential risk of trainees using their service weapons against themselves.'