Fetcham: Builder Admits Murders
1 April 2015, 18:42 | Updated: 1 April 2015, 18:44
A Lithuanian builder who stabbed a married couple to death as they slept in their home has been jailed for life with a minimum term of 33 years.


Viktoras Bruzas killed Patrick and Gillian Kettyle in a frenzied attack at their detached house in Fetcham, Surrey, in November.

The 39-year-old carried out the "brutal'' and "ferocious'' attack as he sought revenge on Mr Kettyle, 55, after wrongly becoming convinced he was having an affair with his wife, the Old Bailey heard.

The victims' teenage son, who cannot be identified for legal reasons, hid terrified in his bedroom after being woken by screaming and shouting as the attack took place.

When the killer came to his door, the boy held the handle to stop Bruzas getting in, the court heard.

He told him through the closed door: "I have no issue with you, boy, or your mother. It's Patrick, he's ruined my life. I'm not scared of prison.''

The murderer was in the house for just six minutes as he repeatedly stabbed both victims in their bed, killing Mrs Kettyle, 54, while she tried to protect her husband.

The attack was so ferocious that the kitchen knife he used broke twice.

The discovery of the gruesome murder scene sparked a huge manhunt and Bruzas was apprehended 18 hours later in nearby Oxshott.

When he was arrested, he was ``calm'' and asked police: ``How long do you get for murder in this country?''

Sentencing him, Mr Justice Spencer said Bruzas had murdered his victims "in cold blood'', adding: "You were in the house for just six minutes but in that short time you snuffed out two precious lives and ruined the lives of many more people for ever.''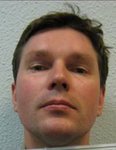 Bruzas had become wrongly convinced that his former wife, Kristina, was having an affair with Mr Kettyle after she worked for him as a book-keeper.

The judge said: "It was a perfectly innocent business relationship. There was some light-hearted flirting between them but you got it into your head that they were having an affair. You allowed this belief to fester.''

It emerged today that the murderer was issued with a police warning for harassment in January last year after making threats against Mr Kettyle.


Bruzas, who came to the UK in 1999, was a "skilful'' builder who was given work at Mr Kettyle's construction business after impressing him while fitting a conservatory at the home that would later become a murder scene.

The killer came across as "really nice and mild-mannered'' but this was a ``public show'', the court heard.

Their association began to unravel when Bruzas grew suspicious of the relationship between his wife and Mr Kettyle.

After complaining to her boss about her husband's ``violent and controlling'' behaviour, she eventually decided to leave him, prosecutor Alan Kent QC said.

Bruzas was "extremely upset'' and in 2012 drove to Mr Kettyle's home and shouted at him: "Why are you trying to take my wife away from me?''

Another threat was sent by email in October 2013, in which Bruzas said: "My family going to sort out.''

Following that message, Mr Kettyle reported the situation to police, who issued Bruzas with a notice in January last year.

Bent on revenge, the killer left his flat in Walton-on-Thames and made his way to the couple's home, armed with a kitchen knife.

After an ordinary evening the Kettyles had gone to bed at around 10.30pm.

Bruzas was seen arriving at 21 minutes past midnight on November 27. Minutes later, he was seen making his escape, having stabbed his victims multiple times.

The attack on Mr Kettyle was ``particularly brutal'', Mr Kent said, adding that it was likely Mrs Kettyle was killed while trying to protect her husband.

Mr Kent said: "The reason for the brutal and horrific murders was that the defendant blamed Patrick Kettyle for the break-up of his own marriage.

"He held Patrick Kettyle responsible for ruining his life. On that evening he left his flat armed with a knife, intending to take the ultimate revenge, and that's what he did.

"The victims were a perfectly normal middle-aged couple who were, in their own home, murdered by this defendant.''

Before dying of her wounds, Mrs Kettyle managed to call out to her son to urge him to alert police.

Bruzas admitted the killings today after pleading not guilty at an earlier hearing.

The victims' family, who were in court, had decided not to write an impact statement because "words can't explain the grief they feel'', the court heard.

In a statement issued through police, Mr and Mrs Kettyle's family said they were a "wonderful couple who loved each other dearly''.

They added: "They were the most fantastic parents - their children feel their loss terribly. It is true to say that the light in our world has been dimmed with their loss.''

Detective Chief Inspector Mark Preston said: ``This deeply saddening incident has been devastating for the family and friends of Patrick and Gillian and left the close-knit community of Fetcham in shock.

"I welcome today's guilty plea and lengthy custodial sentence which I hope will bring some form of closure to the family.''

In mitigation Peter Wilcock QC said Bruzas did not accept that he "had murder in mind'' when he left his home on the night of the killings.