Nine Arrested After Campaigners Chained Themselves To Heathrow Runway
13 July 2015, 15:54 | Updated: 13 July 2015, 16:14
Nine climate change activists have been arrested after chaining themselves to railings on the north runway at Heathrow Airport.
A total of 13 members of activist group Plane Stupid cut a hole in a fence and lay down on the tarmac.
They were protesting against airport expansion. It comes nearly two weeks after the Airports Commission recommended a third runway for Heathrow, over a second runway at Gatwick.
The campaigners were cut free and removed by police.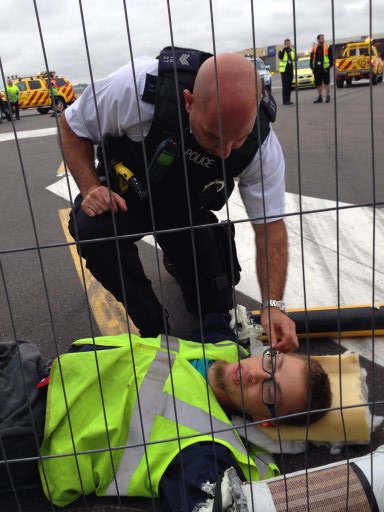 The officer told them: "As a consequence of you being here you are causing severe disruption and it will be in the millions of pounds because it will take us a while to remove you.
"The cost will be in the couple of millions. The airport will attempt to make a civil recovery."
He added: "There are international flights now being diverted."
The Metropolitan Police confirmed some of the demonstrators chained themselves together using a so-called tripod.
A spokesman said: "Officers were alerted to a number of protesters who had made their way airside at Heathrow Airport. A small number of these protesters are believed to have chained themselves to a 'tripod'."
Nine people were arrested but none have been charged yet, police said.
Ella Gilbert, one of the activists on the runway, said: "Building more runways goes against everything we're being told by scientists and experts on climate change.
"This would massively increase carbon emissions exactly when we need to massively reduce them. That's why we're here.
"We want to say sorry to anyone whose day we've ruined, and we're not saying that everybody who wants to fly is a bad person. It's those who fly frequently and unnecessarily who are driving the need for expansion, and we cannot keep ignoring the terrifying consequences of flying like there's no tomorrow.
"No ifs, no buts, no third runway. And we mean it.''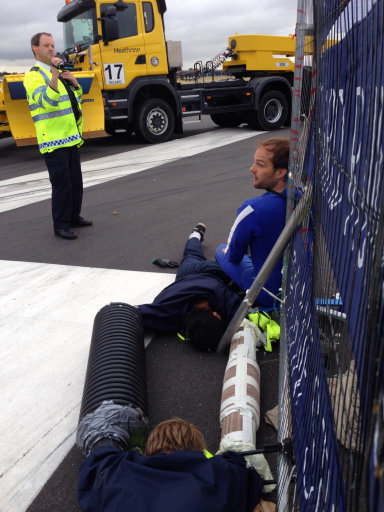 The demonstration caused delays for passengers around the world and 22 flights out of the airport were cancelled.
Louise Rogers, 35, and Ciara Lalor, 34, had their flight home to Dublin cancelled.
Ms Rogers said: ``It's affecting an awful lot of people's lives. I'm not one bit impressed. They should be shot with rubber bullets.''
Ms Lalor said: "They've disrupted so many people. They shouldn't be allowed. Get the fire engine out and hose them down.''
Travellers also took to Twitter to vent their frustration.
One passenger, Jonathan Peat, posted: "What's happening at Heathrow. Waiting to leave Newcastle and been told there are protesters on runway?"
Jacob Firsel, who was delayed in Israel, tweeted: "Protests at Heathrow and we're stuck on the runway in Tel Aviv. So much for good start to our vacation."
Other flyers were more sympathetic to the protesters, with Eamonn Maguire posting: "As someone sitting waiting at Glasgow Airport about to board a flight to Heathrow: fair doos."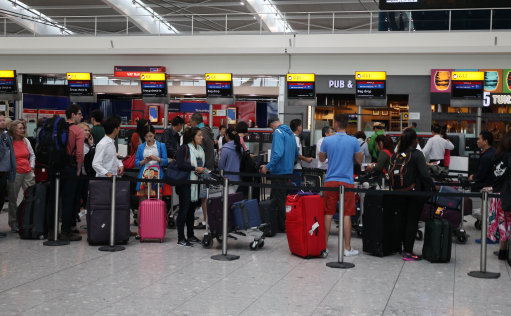 Afzal Ashraf, a consultant fellow at defence and security think-tank the Royal United Services Institute, said the security breach is a "concern".
"If a terrorist group came up to the fence it would take a few minutes to cut through. It's very easy to get to a fence before the police are able to react."
Mr Ashraf said the incident "does raise questions" about security at the airport.
A Heathrow Airport spokesman said: "A group of people staged a protest on the northern runway. These individuals have since been removed by police.
"Both runways were operational throughout, although there have been some delays and a few cancellations - we are sorry to those passengers who experienced disruption."
Earlier this month a long-awaited report recommended a new runway should be built at Heathrow rather than Gatwick.
After three years of investigation, the Airports Commission said Heathrow was best placed to provide "urgently required" capacity, but environmentalists warned that building a new runway there will make it harder to reduce air pollution and climate change emissions.